Herta: Hygienically optimised fire extinguisher enclosure for production facilities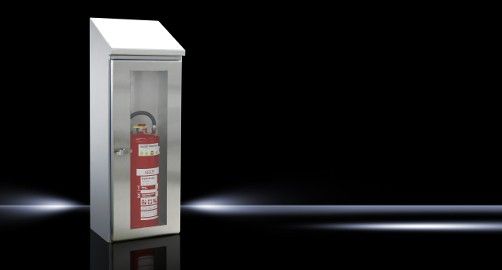 Herta GmbH is a German company in the meat processing industry. Its main brand of products bears the "Herta" label. The company, which was founded in 1897, is now a subsidiary of Nestlé. The meat processor has been working with Rittal for more than ten years to ensure an absolutely clean and hygienic production environment. The sausage expert had a particular need for its fire extinguishers to be stored hygienically.
"When it comes to hygiene on our production site, we play it safe by using Rittal products."
Stephan Niehues, Head of Maintenance at Nestlé
Growing hygiene requirements call for new solutions
The hygiene requirements of the meat processing industry are growing all the time, and they call for ever-new solutions and improvements in the hygienic design of production areas. This means that corrosion has to be avoided at all costs when foodstuffs are being produced. Herta was challenged by the fact that the fire extinguishers in its production facilities could not be cleaned according to strict hygienic specifications. The company therefore needed suitable protective enclosures for the fire extinguishers at its production facilities. Rapid access to the extinguishers also had to be ensured.
HD fire extinguisher enclosures as hygienic packaging
Rittal provided the answer with several stainless steel fire extinguishers in hygienic design, featuring an integrated viewing panel made of robust Makrolon, as well as a locking rod with a hygienic T-lock for quick access in the event of fire. The HD fire extinguisher enclosure has a viewing panel that has been designed following hygienic principles, without any gap. The enclosures repel splash water. This also shortens the cleaning times needed for Herta's fire extinguishers. There is no need for regular maintenance either, since damaged plastic enclosures no longer have to be replaced.
Goal-oriented cooperation between Herta and Rittal
Rittal responded to Herta's needs very quickly and developed a concept for HD fire extin-guisher enclosures together with the meat-processing company. They were installed in the production buildings in just two months. Necessary improvements in the product, such as the integrated viewing panel made of Makrolon, were also incorporated. Regular exchanges are now taking place within the industry, thanks to the close cooperation between Rittal and the service and maintenance team at Herta, while certification associations such as the IFS are now asking that other companies provide safe and hygienic solutions like the Rittal HD stainless steel fire extinguisher enclosure.