VX25 in use at Schaper Steuerungstechnik GmbH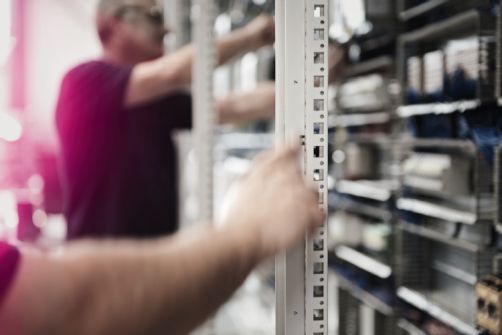 Everything about the Rittal VX25 enclosure is designed to achieve this kind of efficiency boost.
Building cable clamp rails into an enclosure at exactly the right height sounds like an easy enough task. However, it is all-too common to find that the rails on two adjacent enclosures are just a single hole out of line. Luckily, staff in the workshop at Schaper Steuerungstechnik GmbH in Herford no longer have to worry about the reworking this kind of problem requires. A small, very subtle detail on the new VX25 enclosure system resolves the issue – the hole counting on the new frame sections ensures the mounting position can be precisely pinpointed.
One of the major challenges facing this mid-sized switchgear manufacturer is producing switchgear on time and adhering to requested delivery dates. The ability to create top-quality systems despite being under great time pressure depends, among other things, on having optimum components and systems. The technicians at Schaper were therefore excited when they first got to try out the new VX25 enclosure system from Rittal in their projects. The new enclosure's first practical test was to prove its worth in large switchgear 30 to 40 metres in length.
"The VX25 saves us time in a lot of cases, which is helpful when we're under a great deal of time pressure." Nils Mentrup, Technical Manager, Schaper Steuerungstechnik
Fewer different parts
Everything about the Rittal VX25 enclosure is designed to achieve this kind of efficiency boost – and this quickly becomes apparent on Schaper's shop floor. Working with fewer mounting parts is an important advantage that straight away simplifies storage issues. Staff in both the central warehouse and the parts warehouses for individual projects feel the impact of this first-hand at their workstations. Fewer different parts also means parts aren't mixed up as frequently. Less is often more when it comes to the smallest components, too. All screws in the new system are the same size – Torx30 – which means the fitter automatically always has the right cordless driver to hand. "During assembly work, we always used to have two cordless drivers fitted with the appropriate bits – now we only need one," says Nils Mentrup, Technical Manager at Schaper.
Faster assembly
The VX25 also simplifies assembly in many different ways, which helps save time. The enclosure doors, for instance, can be removed with ease, with the new system eliminating the need to lever out the hinge pins. The staff at Schaper always tend to remove the doors before starting with assembly and wiring, which makes their job easier – notably when cables need to be laid across multiple enclosures. "The savings in assembly and dismantling can be anything up to one minute and more for each enclosure door," says Mentrup, calculating the time saved. When it comes to large systems, these minutes quickly add up to hours. The concept of one-person assembly, which applies to the entire enclosure, also helps to speed things up. For instance, one employee can assemble a rear panel without any help from their colleague. They simply hang the panel in place at the top and it stays put while they tighten the screws. It may well be just a few hand movements, but this ensures their colleague can carry out other tasks at the same time.