Duim techniek: VX25 large enclosures' simple installation saves time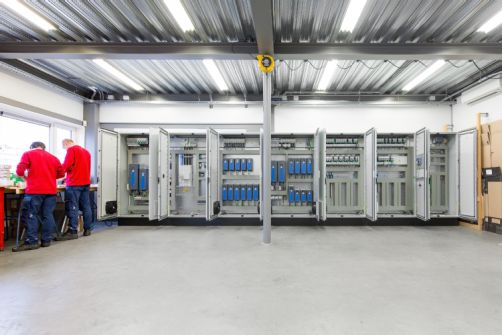 A typical project for Duim techniek involves multiple enclosures aligned in a row (i.e. bayed). The new Rittal VX25 models were made with precisely this scenario in mind.
Time is money – and that holds true for manufacturer Duim techniek, based in Veenendaal, the Netherlands. The mid-size Dutch business specialises in electronic control systems for the waste processing and recycling industry. Each smart system built by the approximately 30 employees at Duim techniek is one-of-a-kind, requiring considerable time, skill and effort to create. "That's why we are always on the lookout for new ways to minimise assembly and installation time," explains Rijkjan Ploeg, Production Hall Manager at Duim techniek and responsible for the electrical engineering workshop. One solution is the VX25 large enclosure system from Rittal.
Rapid assembly and installation
A typical project for Duim techniek involves multiple enclosures aligned in a row (i.e. bayed). The new Rittal VX25 models were made with precisely this scenario in mind. Its baying seals can be attached simply, and therefore quickly, prior to baying the enclosures. This mechanism also prevents errors in the alignment of the individual units. Additionally, there is no longer a need to anchor side panel holders with screws – they can be clipped into place. The VX25 door hinges also contribute to time savings since no extra tools are required to remove the hinge pins. As Ploeg underscores: "The hinges are easy to work with, and the doors can be simply lifted out."
"We quickly save half an hour per enclosure compared to the past."
Rijkjan Ploeg, Production Hall Manager, Duim techniek
Robust protection in harsh environments
"In many situations, ambient conditions are very challenging," states Peter Geerts, from the management office at Duim techniek. "In many cases, the systems are not exactly handled with care." Moreover, there are often high levels of dust in the air, posing a threat to electrical contacts and relays. Some environments also contain aggressive and corrosive substances. "For these reasons, effective protection for our enclosures is extremely important to ensure reliable operation," emphasises Geerts. Wherever possible, enclosures with control technology are installed within shipping containers or self-contained, dust-free control rooms. However, this additional safeguard is not always an option. Rittal's robust VX25 large enclosure system can shield and contribute to the reliability of Duim techniek control systems in diverse scenarios. Geerts highlights: "We use the large enclosures from Rittal because they are sturdy and dependable, and provide good protection against adverse ambient conditions."
Reduced complexity for greater efficiency
The VX25 is designed for greater efficiency, and this quickly becomes apparent when deployed under real-world conditions. The enclosure is based on a new frame profile used for both the vertical and horizontal sections. As a result, there is a smaller number of parts compared to the VX25's predecessors. And fewer components means lower complexity – and, in turn, makes inventory management much simpler. This all leads to reduced costs. As Geerts summarises: "The VX25 large enclosure system from Rittal helps us to work efficiently, plus it provides an ideal safeguard against dust and other potentially damaging conditions."