Network/server enclosure TS IT with vented door, with 482.6 mm (19") mounting angles
Model No. DK 5510.110
Product Lifecycle
Limited
Discontinued article.
Information on the discontinued articles
This item will be discontinued on 20.01.2021
This item is being replaced by
5310118
Network/server rack VX IT with vented doors, with 482.6 mm (19") mounting angles, standard
Close
Product description
TS IT, vented, for room climate control 482.6 mm (19") interior installation with depth-variable 482.6 mm (19") mounting angles for a load capacity of up to 1,500 kg, available in a range of size variants.
The product was added to your wishlist
No. of packs*
* Pack of sale = 1 pc(s).
– Recommended accessories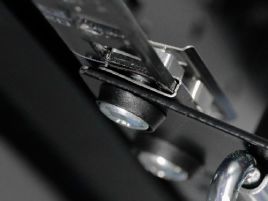 482.6 mm (19") fastener, 1 U with contact
Model No.

2090.000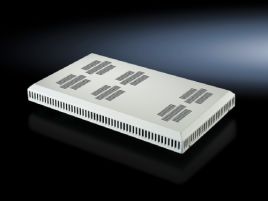 Fan mounting plate for VX IT, TS IT, TE
Model No.

5502.010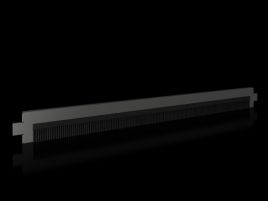 Base/plinth trim panels with brush strip for base/plinth system VX
Model No.

8620.095
+ Product description
Material:
Sheet steel
Aluminium

Surface finish:
Enclosure frame: Dipcoat-primed
Interior installation: Dipcoat-primed
Doors and roof: Dipcoat-primed, powder-coated

General colour:
RAL 7035

Colour:
Enclosure frame and panels: RAL 7035
Interior installation, vent grille at the front: RAL 9005

Supply includes:
TS 8 enclosure frame with doors and roof plate
Aluminium/sheet steel door at the front, vented (vented surface area approx. 85% perforated), 180° hinges
Lock front and rear: Comfort handle for profile half-cylinders and security lock 3524 E
Two 482.6 mm (19") mounting sections front and rear, variably mounted on support strips with quick-release fasteners
Spacers, height 50 mm, to raise the cover plate above the fan cut-out in the roof plate, for passive cooling (supplied loose)
Connection accessories for potential equalisation with earthing point (supplied loose)
12 x 482.6 mm (19") fastener, 1 U, conductive (supplied loose)
50 multi-tooth screws, conductive (supplied loose)
IPPC pallet
Roof plate, multi-piece, removable, with side cable entry in the depth and covered cut-out for fan mounting plate
Sheet steel rear door, vented (vented surface area approx. 85% perforated), vertically divided, 180° hinges

Note:
Depending on how and where it is sited, the door opening angle may vary for selected applications

Basic material:
Sheet steel

Dimensions:
Width: 600 mm
Height: 2000 mm
Depth: 1200 mm

Installation height for components:
42 U

Distance between levels as delivered:
745 mm

482.6 mm (19") version:
Mounting angles, 482.6 mm (19")

Construction doors:
Vented

Free mounting space to the 482.6 mm (19") level, front/rear:
144 mm / 308 mm

Load capacity:
15000 N

Packs of:
1 pc(s).

Weight/pack:
95 kg

EAN:
4028177678132

Customs tariff number:
94032080

ETIM 7.0:
EC002499

ETIM 6.0:
EC002499

eCl@ss 8.0/8.1:
27180207

eCl@ss 6.0/6.1:
27180207

Product description:
TS IT, 19" mounting angles, vented, WHD: 600 x 2000 x 1200 mm, 42 U 

Network/server enclosure TS IT with vented door, with 482.6 mm (19") mounting angles
Model No. DK 5510.110
Close