Discontinued article.
Information on the discontinued articles
This item will be discontinued on 15.02.2019
This item is being replaced by
4696000
Support strip for VX, TS, SE, CM, TP, AX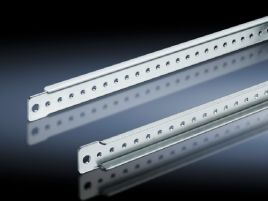 Click here for the successor item
Close
Product description
For simple attachment of cable ducts, cable conduit holders, contact hazard protection cover plates, equipment installed on the door, cable clamping and attachment.
The product was added to your wishlist
No. of packs*
* Pack of sale = 20 pc(s).
+ Product description
Description:
For simple attachment of cable ducts, cable conduit holders, contact hazard protection cover plates, equipment installed on the door, cable clamping and attachment.

Material:
Sheet steel

Surface finish:
Zinc-plated

Technical specifications:
4.5 mm diameter hole on a 25 mm DIN pitch pattern.

Assembly instruction:
For installation in AX stainless steel, only in conjunction with perforated door strip

Supply includes:
Assembly parts

To fit:
Enclosure type: TS
Enclosure type: SE
Width/depth: 600 mm

Dimensions:
Length: 590 mm

Installation options:
On the vertical and horizontal TS, SE enclosure section on the inner mounting level, height-offset all-round

Packs of:
20 pc(s).

Weight/pack:
6.16 kg

EAN:
4028177212503

Customs tariff number:
73269098

ETIM 7.0:
EC002620

ETIM 6.0:
EC002620

eCl@ss 8.0/8.1:
27189261

eCl@ss 6.0/6.1:
27189261

Product description:
TS Support strip, for TS, SE, CM, TP, for the inner mounting level: for W/D: 600 mm, L: 590 mm

– Customers who were interested in this item were also interested in