Discontinued article.
Information on the discontinued articles
This item will be discontinued on 30.03.2021
This item is being replaced by
5852680
VX SE free-standing enclosure system IP 66/NEMA 4X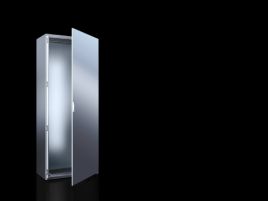 Close
Product description
Increased protection due to IP 66 / NEMA 4X. Time-saving assembly work due to the roll-formed side panels
The product was added to your wishlist
No. of packs*
* Pack of sale = 1 pc(s).
+ Product description
Description:
The system enclosure is based on the TS 8 platform. System accessories for interior installation in the TS 8 design can be used without restrictions.

Material:
Enclosure: Stainless steel 1.4301 (AISI 304), 1.5 mm, exterior brushed
Door: Stainless steel 1.4301 (AISI 304), 2.0 mm, exterior brushed
Rear panel: Stainless steel 1.4301 (AISI 304), 1.5 mm, exterior brushed
Base: Stainless steel 1.4301 (AISI 304), 3.0 mm
Mounting plate: Sheet steel, 3.0 mm

Surface finish:
Enclosure, rear panel and door: Brushed, grain size 400
Mounting plate: Zinc-plated
Base: Uncoated

Protection category IP to IEC 60 529:
IP 66

Protection category NEMA:
NEMA 4X
NEMA 3R

Supply includes:
Enclosure, solid top and sides
Door(s)
Door hinged on the right, may be swapped to the left
Rear panel, detachable
Mounting plate
Base, solid
Lock: 3 mm double-bit
2 TS punched rails 18 x 38 mm

Note:
Due to the hardness of the material, we recommend using metal multi-tooth screws for the interior installation.

Basic material:
Stainless steel

Dimensions:
Width: 800 mm
Height: 1800 mm
Depth: 500 mm

Mounting plate:
Width: 699 mm
Height: 1696 mm

Packs of:
1 pc(s).

Weight/pack:
132 kg

EAN:
4028177696754

Customs tariff number:
94032080

ETIM 7.0:
EC000261

ETIM 6.0:
EC000261

eCl@ss 8.0/8.1:
27180101

eCl@ss 6.0/6.1:
27180101

Product description:
SE Free-standing enclosure system, WHD: 800x1800x500 mm, Stainless steel 1.4301, IP 66 / NEMA 4X, with mounting plate, single door at the front

+ Approvals
Approvals:
Certificates:

Protection category:

(EN)

Declarations:
– Customers who were interested in this item were also interested in