Discontinued article.
Information on the discontinued articles
This item will be discontinued on 30.09.2020
The indicated successor item is suitable for the enclosure systems AX, KX, AX IT, EL
2508020
Wall mounting bracket for AX sheet steel, KX sheet steel, AX IT, EL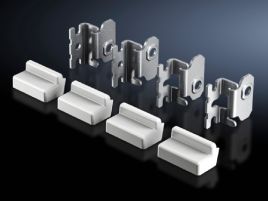 Close
Product description
For attaching to the enclosure from the outside. Simply insert the expandable dowel into the enclosure hole from the outside, and screw-fasten the wall bracket from the outside.
The product was added to your wishlist
No. of packs*
* Pack of sale = 4 pc(s).
+ Product description
Material:
Sheet steel

Surface finish:
Zinc-plated

Supply includes:
Wall bracket pre-fitted with seal and expandable dowel.

To fit:
Enclosure type: AE

Installation options:
For attaching to the enclosure from the outside
Simply insert the expandable dowel into the housing hole from the outside, and screw-fasten the wall bracket from the outside

Wall distance:
15 mm

Packs of:
4 pc(s).

Weight/pack:
0.3 kg

EAN:
4028177602366

Customs tariff number:
83024900

ETIM 7.0:
EC002625

ETIM 6.0:
EC002625

eCl@ss 8.0/8.1:
27189234

eCl@ss 6.0/6.1:
27182405

Product description:
SZ Wall mounting bracket for KS, sheet steel, galvanized, Wall distance 15 mm