Discontinued article.
Information on the discontinued articles
This item will be discontinued on 15.02.2019
This item is being replaced by
8700050
Side panels, screw-fastened, stainless steel for VX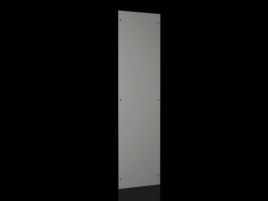 Click here for the successor item
Close
The product was added to your wishlist
No. of packs*
* Pack of sale = 2 pc(s).
+ Product description
Benefits:
Automatic potential equalisation and higher EMC protection due to enclosure panel holders with earthing insert
Easy positioning with the location aid
Earthing bolt with contact surface

Material:
Stainless steel 1.4301 (AISI 304), 1.5 mm

Surface finish:
Brushed, grain 400

Protection category IP to IEC 60 529:
IP 55

Supply includes:
Assembly parts

To fit:
Enclosure type: TS 8
Height: = 2000 mm
Depth: = 600 mm

Packs of:
2 pc(s).

Weight/pack:
32 kg

EAN:
4028177300170

Customs tariff number:
94039010

ETIM 7.0:
EC002524

ETIM 6.0:
EC002524

eCl@ss 8.0/8.1:
27182101

eCl@ss 6.0/6.1:
27182101

Product description:
TS Side panel, screw-fastened, for TS, for WD: 2000x600 mm, Stainless steel 1.4301

– Customers who were interested in this item were also interested in