Discontinued article.
Information on the discontinued articles
This item will be discontinued on 15.02.2019
This item is being replaced by
8617820
Support rail 48 x 26 mm for VX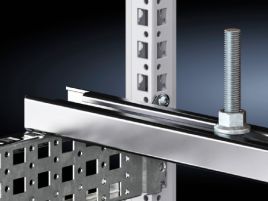 Click here for the successor item
Close
Product description
For heavy installed equipment such as transformers. T-head screw and slot in the support rail accommodate all mounting dimensions.
The product was added to your wishlist
No. of packs*
* Pack of sale = 2 pc(s).
+ Product description
Description:
For heavy installed equipment such as transformers. T-head screw and slot in the support rail accommodate all mounting dimensions.

Material:
Sheet steel

Surface finish:
Zinc-plated

Supply includes:
2 system support rails (45 x 25 mm)
4 T-head screws M12 x 60 mm
Assembly parts

To fit:
Width: = 1000 mm

Installation options:
On the vertical TS, SE enclosure section via snap-on nuts TS 8800.808 or adaptor rails for PS compatibility, height-offset, via TS punched rail 25 x 38 mm
On the horizontal TS enclosure section: in the width, in the depth (without mounting plate)
in the case of SE, additionally at the horizontal section in the width at the bottom and top or in the depth at the bottom and top (without mounting plate) via snap-on nuts 8800.808.
On base configuration rail for CM

Packs of:
2 pc(s).

Weight/pack:
4.84 kg

EAN:
4028177099395

Customs tariff number:
73269098

ETIM 7.0:
EC001285

ETIM 6.0:
EC001285

eCl@ss 8.0/8.1:
27189261

eCl@ss 6.0/6.1:
23159101

Product description:
SZ Free-standing enclosure system, for W: 1000 mm

– Customers who were interested in this item were also interested in