Discontinued article.
Information on the discontinued articles
This item will be discontinued on 20.01.2021
Alternative product recommendation
5302022
Combination rails for VX IT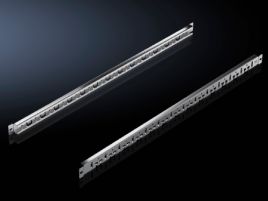 Close
Product description
The cables may be attached to the cable clamp rails with cable ties or nylon tapes, the cable clamp rails are simply located onto the frame section and may additionally be secured with a screw.
The product was added to your wishlist
No. of packs*
* Pack of sale = 4 pc(s).
+ Product description
Design:
for the outer attachment level

Description:
For cable routing on the enclosure frame. The cables may be attached to the cable clamp rails with cable ties or nylon loops. The cable clamp rails are easily located onto the frame section of the enclosure frame or mounting frame, and may additionally be secured with a screw.

Applications:
On the TS frame
between the mounting angles of the TS IT in the enclosure depth

Material:
Sheet steel

Surface finish:
Zinc-plated

Supply includes:
Assembly parts

To fit:
Enclosure type: TS
Enclosure type: TS IT
Width: 1000 mm
Depth: 1000 mm

Packs of:
4 pc(s).

Weight/pack:
1.8 kg

EAN:
4028177235168

Customs tariff number:
73269098

ETIM 7.0:
EC000322

ETIM 6.0:
EC000322

eCl@ss 8.0/8.1:
27400604

eCl@ss 6.0/6.1:
27400604

Product description:
DK Cable clamp rail, For the outer mounting level, For WxD: 1000 mm