Discontinued article.
Information on the discontinued articles
This item will be discontinued on 15.02.2019
This item is being replaced by
8619310
Adaptor sections, 482.6 mm (19") for VX, VX SE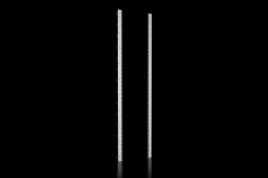 Click here for the successor item
Close
Product description
For installing subracks and other installed components, adaptor sections are easily shortened for partial assemblies.
The product was added to your wishlist
No. of packs*
* Pack of sale = 4 pc(s).
+ Product description
Description:
For the installation of subracks and other equipment. Adaptor sections are easily shortened for partial assemblies.

Material:
Extruded aluminium section

Supply includes:
Assembly parts

Note:
The 482.6 mm (19") measurement applies when mounting on the frame of 600 mm wide enclosures.

To fit:
Enclosure type: TS
Width: = 600 mm
Height: = 1800 mm

Units:
38 U

Installation dimensions:
Installation width: 482,6 mm / 19"

Packs of:
4 pc(s).

Weight/pack:
6.63 kg

EAN:
4028177212213

Customs tariff number:
76042990

ETIM 7.0:
EC002625

ETIM 6.0:
EC002625

eCl@ss 8.0/8.1:
27189234

eCl@ss 6.0/6.1:
27180907

Product description:
TS Adaptor sections, 482.6 mm (19'') for TS, for H: 1800 mm, 38 HE

– Customers who were interested in this item were also interested in