Discontinued article.
Information on the discontinued articles
This item will be discontinued on 15.02.2019
This item is being replaced by
8620521
Drawer for keyboard and mouse for VX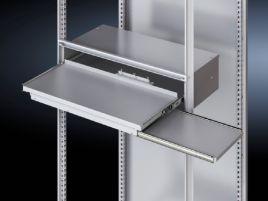 Click here for the successor item
Close
Product description
For mouse and keyboard with a maximum width of 500/700 mm. A high level of protection is retained, even with the flap open.
The product was added to your wishlist
No. of packs*
* Pack of sale = 1 pc(s).
+ Product description
Description:
For mouse and keyboard with a maximum width of 500/700 mm. A high level of protection is retained, even with the flap open.

Material:
Sheet steel

Colour:
RAL 7035

Assembly instruction:
Standard double-bit lock insert may be exchanged for 27 mm lock inserts, type A or plastic handles, type B or T handles, type B.

Supply includes:
Drawer
Flap
Cross member
Assembly parts

Dimensions:
Width: 800 mm
Height: 200 mm

Packs of:
1 pc(s).

Weight/pack:
21.4 kg

EAN:
4028177258907

Customs tariff number:
94039010

ETIM 7.0:
EC002620

ETIM 6.0:
EC002620

eCl@ss 8.0/8.1:
27189261

eCl@ss 6.0/6.1:
27182290

Product description:
TS Drawer, for TS, WD: 800x200 mm

– Customers who were interested in this item were also interested in