Discontinued article.
Information on the discontinued articles
This item will be discontinued on 15.02.2019
This item is being replaced by
9682318
Front trim panel, top, solid for VX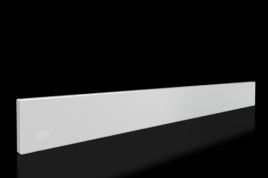 Click here for the successor item
Close
The product was added to your wishlist
No. of packs*
* Pack of sale = 1 pc(s).
+ Product description
| | |
| --- | --- |
| Description: | To finish off the modular front design at the top when using partial doors. The front trim panels may be removed from the outside by unscrewing. The cross member required for mounting is included with the supply of the mounted partial doors. |
| Material: | Sheet steel, 2 mm |
| Surface finish: | Textured paint |
| Colour: | RAL 7035 |
| Protection category IP to IEC 60 529: | IP 54 |
| Supply includes: | Assembly parts |
| To fit: | Width: = 800 mm |
| Height front panel: | Top: 100 mm |
| Packs of: | 1 pc(s). |
| Weight/pack: | 2.15 kg |
| EAN: | 4028177697355 |
| Customs tariff number: | 94039010 |
| ETIM 7.0: | EC000456 |
| ETIM 6.0: | EC000456 |
| eCl@ss 8.0/8.1: | 27142423 |
| eCl@ss 6.0/6.1: | 27182290 |
| Product description: | SV Front trim panel, for TS, top, WH: 800x100 mm, protection category IP 54 |