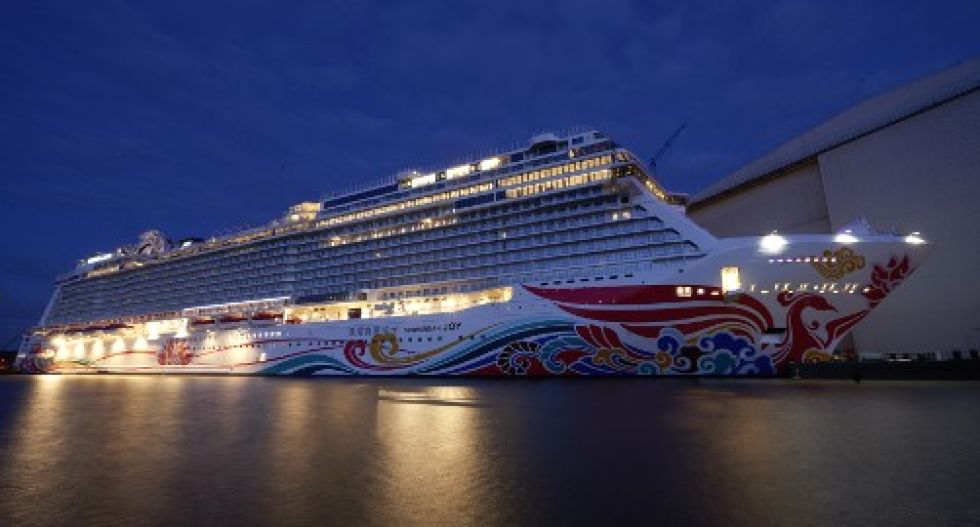 IT systems. IT requirements on board cruise ships are increasing. The Meyer Werft shipyard uses Rittal data centers to ensure fast, standardised and fail-safe operations on the Norwegian Joy.
For the confident fortune hunters, today could well be their lucky day. The one-armed bandits rattle along, with cherries and dollar bills on rotating rollers racing through the viewing windows of the games machines. Animated voices reverberate around the room, and all the tables are full. The jackpot seems within reach.Viva Las Vegas – or so you might think. Yet this eldorado for casino fans isn't located in Nevada but on the high seas – on board the "Norwegian Joy."
The world's fourth largest cruise ship comes from the Meyer Werft shipyard in Germany and is specially designed for the Asian market. The Papenburg-based shipbuilder, which has also been producing tankers and freighters for over 25 years and is a world leader, knows these requirements exactly. "As well as larger cabins for whole families, customers also expect larger casinos," explains Frank Langen, Technical Design Department at Meyer Werft. And it's not just a matter of accommodating them on the ship. Such entertainment offerings also place demanding requirements on IT systems to enable smooth operations, monitoring, play and settling up.
THE IT NEEDS ARE LIKE THOSE OF A SMALL TOWN
IT is now a key factor for these floating small towns, which are increasing in number and have larger capacity. Passengers' demands for digital leisure activities are also increasing. For many people, the ship – which is like a floating theme park – is the actual holiday destination, less so the ports and places it docks at. The Norwegian Joy even has its own go-kart track on board. A floating ecosystem of this kind thus needs to offer maximum comfort. Video on demand in the cabin, mobile Internet access and cashless payments are almost a given for many passengers. The crew also uses satellite navigation on the bridge, central payment systems in the on-board restaurants and continuous monitoring of performance data in the engine room. These types of services are inconceivable without high-performance on-board data centers.
Although installing a data center is just one of numerous design challenges for the shipyard, large amounts of expertise are every bit as necessary for the IT systems as they are for fitting out the 1,925 cabins on the 333-metre-long ship. Ships are becoming bigger and bigger with every year that passes. Yet the space on board a passenger ship for technology rooms and data centers to support profitable cabins and restaurants is very limited. Repairs to the IT infrastructure hundreds of nautical miles from the nearest port are also only possible to a limited extent. "During a voyage, parts must therefore be easy to replace. The IT system supplier should also offer technical service in the ship's destination countries," says Langen.