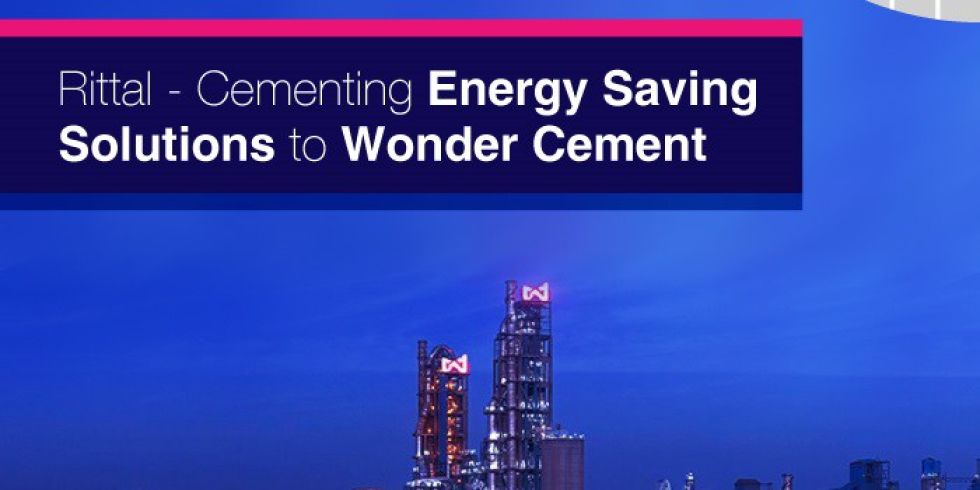 Wonder Cement in pursuit of Efficient Energy Saving Service Provider
India is the 2nd Largest Cement Producing country in the world. Established in the year 2010, Wonder Cement emerged as strong player in Indian market and since its inception it has upheld their legacy of being important member in cement industry. With an annual production of 6.75 Million Tons, Wonder Cement is one of the leading names in the Cement industry.
Hurdles on Road
The future market leaders of cement industry, Wonder Cement, launched their new Greenfield Project and was on the lookout for a reliable Energy Saving solutions provider, who can lower down their maintenance cost, reduce downtime and help in increasing total efficiency of their plant to maintain the productivity. Mitigation of production costs and reduction in Greenhouse Gas Emissions are the major concerns raised in the Cement industry. It was nothing different for Wonder Cement, their old cooling solutions required high maintenance often resulting in system failure due to the low quality of products. They needed a service provider that could reduce their operation cost while providing high Energy efficient Cooling solutions.
Innovation in Service & Energy by Rittal
Wonder cement approached Rittal to provide them with solutions that could reduce their operating cost along with providing energy efficient cooling solution. Our team proposed to do a detailed Audit of the plant first, to check up on the conditions of the installed equipment's in plant. Our Audit report helped us to advise Wonder Cement with the right solutions. We provided them with small and large enclosures that could secure and provide durability to their drives. We also facilitated our efficient cooling units so that the drive inside the panel can be maintained at right temperature.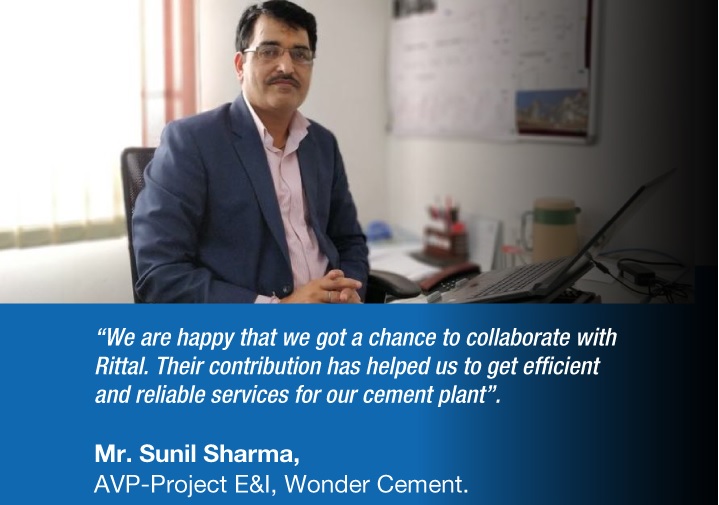 Outcome of Our Solution
Cement industry market was captured by local vendors and it was not easy for company like Rittal to enter in this market and provide its solutions and services. Our constant efforts and excellent track record, provided us an opportunity and we stepped right up with Wonder Cement. Rittal provided Wonder Cement with small enclosures, large enclosures and Blue e cooling units. It was quickly evident that not only did our solutions help to maintain the temperature inside the panel, it also helped in reducing total operation costs by saving energy. Blue e and Blue e+ has revolutionized the industries because of their low maintenance and highly dependable features. Rittal offered solutions that provided a considerable cost benefit in terms of procurement, energy savings and maintenance. The Blue e+ cooling unit series is the ultimate in terms of efficiency, saving up to 75% energy due to speed-regulated components and heat pipe technology.
Due to the great product line, on-time delivery and prompt maintenance services; we have cemented the bond with Wonder Cement as their first choice for any upcoming future project when it comes to energy efficient solutions.
Rittal - Faster - Better - Everywhere
Rittal is World's Leading Systems provider for enclosures, power distribution, climate control, IT infrastructure and software & services. Known in high regard for our product and services, our versatile and flexible range of services perfectly compliment the exhaustive product portfolio that we put up. Our team of service partners and trained service engineers help us to provide innovative maintenance services in Rapid Response time. Ensuring impressive and dependable systems in full availability with all application areas worldwide, 24/7, 365 days a year.