Introduction
Established in 1967, Navin Fluorine International Limited (NFIL), a subsidiary of Padmanabh Mafatlal Group is one of the largest manufacturers of speciality fluorochemicals in India. They operate integrated fluorochemicals complexes with manufacturing locations around the country. Rittal worked with NFIL and provided our state-of-the-art Edge Data Center solutions at:
Navin Fluorine International Ltd.,Surat,
Navin Fluorine International Ltd., Mumbai, Maharashtra
Navin Fluorine International Ltd., Dewas, Madhya Pradesh
Essentials of NFIL
Navin Fluorine International Limited was looking to migrate to a Smart Data Center from their existing server room.
NFIL was on a lookout for a Data Center service provider to ease:

Addressing the Problem
Our channel partner MicroHard IT solutions presented us with a proposal to facilitate our state-of-the-art Edge Data Center solutions to NFIL. Our team of engineers met the representatives of NFIL to understand and assess their requirements. Our assessment revealed that their current Data Center was compromised with the following concerns:

Based on these problems, we evaluated their Data Center and provided them with a complete proposal of our Edge Data Center solution. Following concerns were addressed through our proposal:

We understood the critical nature and the time factor involved with this project. Apart from the said issues, we also presented NFIL with references and benefits of our Edge Data Center running on the same applications in India. Convinced with our proposal, NFIL granted Rittal the contract to install 2 RACK EDGE DATA CENTER SOLUTION at all the three locations.
Unveiling the Finest Solutions - The Edge Data Center
Upon NFIL's approval, we first commenced with the installation process at their manufacturing location in Surat, Gujarat. Rittal Edge Data Center is a state-of-the-art solution developed with leading technology to simplify the infrastructural needs of the businesses. Our team of engineers started with the deployment process and migrated to the new Data Center with minimal downtime. Developed in compliance with industry norms and standards, our Data Center is efficient in terms of saving energy and cost. It made optimum utilization of the space in their server room. The distinct features of our Edge Data Center is that it is equipped with a Unique Fire Detection and Suppression System with VESDA (DET-AC) and zero 'U' space utilization for cooling unit resulting in more effective usage of space for the customer. After the implementation of our solutions at their Surat location, we installed our solution at Navin Fluorine International Ltd., Mumbai, Maharashtra and Navin Fluorine International Ltd., Dewas, Madhya Pradesh.
The Rittal Way to Perfection
Rittal is one of the leading names in terms of energy saving solutions because of our top-notch and innovative products & services. Our cutting edge German technology helps us in producing unmatched quality and expertise. We addressed all the requirements presented by NFIL and delivered a Data Center solution which was efficient and fit right in their budget. It was our customer-centric approach, 24/7 customer support and better ROI that helped us to close the deal with NFIL. Their representatives were content with the solutions delivered by Rittal which helped us in developing a lasting partnership with Navin Fluorine International Limited.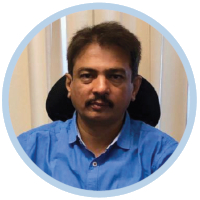 Client Testimonial
We were very impressed with Rittal's team, capability and attention in all areas. The detailed tour from the team highlighted Rittal's leading use of technology to ensure a highly resilient, secure and efficient Data Center which met all our requirements and exceeded our expectations.
The Edge Data Center project was handled in Professional and Ethical way by Rittal with sound understanding of our requirements right from initial stage of presenting the solution till its final execution including the post 'Go-Live' support. I was particularly impressed with this aspect of their customer friendliness and offering right solution at right cost.
Mr. Bhavesh Sangani
GM - IT | Navin Fluorine International Limited


Rittal – The System. Faster - better - everywhere.
Rittal is World's Leading Systems provider for enclosures, power distribution, climate control, IT infrastructure and software & services. Developed using state-of-the-art technologies, our products offer definite benefits to the customers in particular with regard to quality, technical capability, range and availability 24/7, 365 days a year.