Discontinued article.
Information on the discontinued articles
Product expires on 31.01.2020
This item is being replaced by
7979142
PDU basic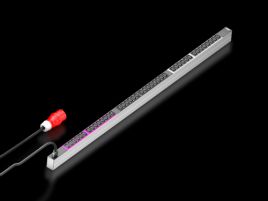 Close
Product description
IT rack power distribution in a range of different variants. Input with CEE connector (16 A/32 A) and C13 and C19 outputs. Distribution output from 3.7 kW to 22 kW.
+ Product description
Design:
PDU Basic

Description:
Robust, compact basic power distributor for the IT environment. Thanks to the compact PDU, any IT rack may be easily equipped with a professional power distribution system. With the TS IT rack, assembly is even tool-free. The compact design allows simple assembly.

Material:
Aluminium section, black anodised

Protection category IP to IEC 60 529:
IP 20

Standards:
EN 60950-1

Directives:
EMC Directive 2014/30/EU
Low Voltage Directive 2014/35/EU

Variant:
passive

Sockets:
42  x IEC 320 socket C13  - Black 

To fit:
Enclosure type: TS IT
Height: ≥ 1800 mm

Dimensions:
Width: 44 mm
Depth: 62 mm
Length: 1405 mm

Infeeds:
Qty.: 1
Phases per infeed: 3~

Length of connection cable:
3 m

Ambient conditions:
Operating temperature: +0 °C...+45 °C
Storage temperature: -25 °C...+70 °C
Ambient humidity (non-condensing): 10 % - 95 %

Type of electrical connection:
CEE

Rated current (max.):
16 A

Packs of:
1 pc(s).

Weight/pack:
4.7 kg

EAN:
4028177684973

Customs tariff number:
85369095

ETIM 7.0:
EC000330

ETIM 6.0:
EC000330

eCl@ss 8.0/8.1:
27142604

eCl@ss 6.0/6.1:
27142604

Product description:
DK PDU international, basic version, Compact basic power distributor, WLD: 44x1405x62 mm, 42xC13, black, CEE, 3~, 16 A

– Customers who were interested in this item were also interested in