Cable duct for vertical TS section
Model No.
TS 8800.570
Discontinued article.
Information on the discontinued articles
This item will be discontinued on 15.02.2019
This item is being replaced by
8800755
Cable duct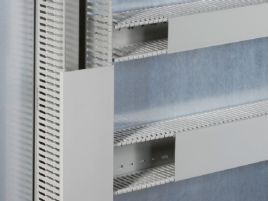 Click here for the successor item
Close
Product details
For mounting on the vertical enclosure section, on two bayed enclosure sections in the vicinity of baying.
+
Product description
Design:
Width 50 mm, for assembly on one vertical enclosure section in the area of the side panel.

Benefits:
The cable duct fastening points are co-ordinated with the TS system hole pattern. This eliminates time-consuming drilling work that would be necessary with DIN ducts.
The nominal break points of the bars are also designed for combination with the cable ducts for mounting plates.
A further nominal break at the mounting plate height allows direct entry to the cable duct.

Material:
Hard PVC
Flame-resistant, self-extinguishing

Colour:
Similar to RAL 7030

Supply includes:
Cable duct with cover

Note:
Can be shortened for other enclosure sizes.

To fit:
Enclosure type: TS
Enclosure type: SE
Enclosure type: PC
Enclosure type: IW
Height: ≤ 1800 mm

Dimensions:
Width: 50 mm
Height: 1600 mm
Depth: 80 mm

Bar width:
5,5 mm

Slot width:
4,5 mm

Operating temperature:
Operation (environment): 60  °C

Packs of:
8 pc(s).

Weight/pack:
9,44 kg

EAN:
4028177238015

Customs tariff number:
39259020

ETIM 7.0:
EC000012

ETIM 6.0:
EC000012

eCl@ss 8.0/8.1:
27400703

eCl@ss 6.0/6.1:
27400703

Product description:
TS Cable duct for vertical TS section, WHD: 50x1600x80 mm

–
Customers who interested in this item also interested in