PC enclosure system
Model No.
PC 5366.300
Discontinued article.
Information on the discontinued articles
This item will be discontinued on 31.03.2021
This item is being replaced by
5366350
PC enclosure system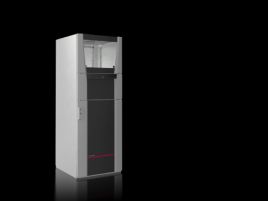 Close
Product details
Secure accommodation of all PC components, from monitors, to PCs, to keyboards. For ultimate ease of operation in a modern design. Perfect protection from humidity and dirt, temperature fluctuations and unauthorised access.
+
Product description
Design:
with glazed door at the top, keyboard drawer, small mounting compartment and component shelf

Description:
Secure accommodation of all PC components, from monitors, to PCs, to keyboards. For ultimate ease of operation in a modern design. Perfect protection from humidity and dirt, temperature fluctuations and unauthorised access.

Material:
Enclosure, door, rear door, mounting compartment, supports: Sheet steel
Handles, decorative trim panels: Plastic
Door trim panels: Aluminium
Viewing window: Single-pane safety glass

Surface finish:
Enclosure and door: Dipcoat primed, powder-coated on the outside, textured paint
Mounting compartment, support: powder-coated

Colour:
Enclosure, door, decorative trim panels, supports: RAL 7035
Handle: Similar to RAL 9006
Monitor panel, door centre part: RAL 7015

Protection category IP to IEC 60 529:
IP 55

Protection category NEMA:
NEMA 12

Supply includes:
Enclosure, door, rear door
Glazed door, top
Mounting compartment, small
Keyboard drawer
Component shelf

Basic material:
Sheet steel

Dimensions:
Width: 600 mm
Height: 1600 mm
Depth: 636 mm

Keyboard dimensions:
Width (max.): 480 mm
Height (max.): 70 mm
Depth (max.): 260 mm

Packs of:
1 pc(s).

Weight/pack:
95.5 kg

EAN:
4028177693210

Customs tariff number:
94032080

ETIM 7.0:
EC002502

ETIM 6.0:
EC002502

eCl@ss 8.0/8.1:
27180501

eCl@ss 6.0/6.1:
27180501

Product description:
PC PC enclosure system, WHD: 600x1600x636 mm, Sheet steel, with glazed door at the top, keyboard drawer, component shelf, small mounting compartment, component shelf