Base/plinth, complete Sheet steel, for AE, universal consoles TP
Model No.
AE 2802.200
Discontinued article.
Information on the discontinued articles
This item will be discontinued on 30.09.2020
This item is being replaced by
2820102
Base/plinth corner piece with base/plinth trim panels, front and rear, 200 mm for AX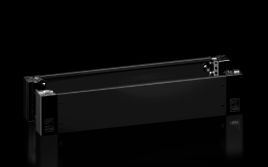 Close
Product details
Trim panels at the front and rear with fitted corner pieces and side trim panels.
+
Product description
Description:
Trim panels at the front and rear with fitted corner pieces and side trim panels.

Material:
Sheet steel

Surface finish:
Spray-finished

Colour:
RAL 7022

Supply includes:
4 corner pieces
2 trim panels front/rear
2 trim panels, side
Assembly parts for mounting on the enclosure
1 trim panel front/rear x 200 mm
2 trim panels, front/rear, x 100 mm
4 trim panels, side, x 100 mm

To fit:
Enclosure type: AE
Width: = 1000 mm
Depth: = 300 mm

Dimensions:
Height: 200 mm
Depth: 279 mm

Packs of:
1 pc(s).

Weight/pack:
14 kg

EAN:
4028177032552

Customs tariff number:
94039010

ETIM 7.0:
EC000721

ETIM 6.0:
EC000721

eCl@ss 8.0/8.1:
27182003

eCl@ss 6.0/6.1:
27189270

Product description:
AE Base/plinth, complete, for AE, for WD: 1000x300 mm, H: 200 mm, Sheet steel

–
Customers who interested in this item also interested in