Divider panel for TS
Model No.
TS 8609.860
Discontinued article.
Information on the discontinued articles
This item will be discontinued on 15.02.2019
This item is being replaced by
8609202
Divider panel for VX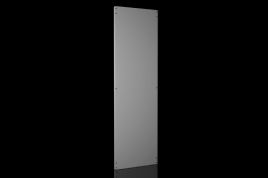 Click here for the successor item
Close
Product details
Spare parts
For shielding individual enclosure cells. Thanks to the symmetry of the frame system, the divider panel can also be used at the rear.
+
Product description
Description:
For shielding individual enclosure cells. All-round, double fold for stability and to hold the seal. Thanks to the symmetry of the enclosure frame, divider panels may also be fitted at the rear, dimensions permitting.

Applications:
Notches in the corners and half-way up the sides permit the use of angular baying brackets and baying brackets, even with a divider panel fitted.

Material:
Sheet steel, 1.5 mm

Surface finish:
Zinc-plated

Protection category IP to IEC 60 529:
IP 54

Assembly instruction:
The divider panel may also be fitted at the rear. This allows, e.g. frequency converters for heat dissipation to be installed in a divider panel with the cooling units facing outwards and protected/finished off with a cover.

Supply includes:
Assembly parts

To fit:
Enclosure type: TS 8
Height: = 1800 mm
Depth: = 600 mm

Installation options:
For mounting on the outer mounting level
This leaves the inner level free for further population

Packs of:
1 pc(s).

Weight/pack:
13.15 kg

EAN:
4028177208803

Customs tariff number:
94039010

ETIM 7.0:
EC002525

ETIM 6.0:
EC002525

eCl@ss 8.0/8.1:
27182102

eCl@ss 6.0/6.1:
27182102

Product description:
TS Divider panel, for TS, for WD: 1800x600 mm

–
Customers who interested in this item also interested in