Hinge for side panel TS, screw-fastened, sheet steel
Model No.
TS 8800.110
Discontinued article.
Information on the discontinued articles
This item will be discontinued on 15.02.2019
This item is being replaced by
8106260
Hinge for side panel, screw-fastened, sheet steel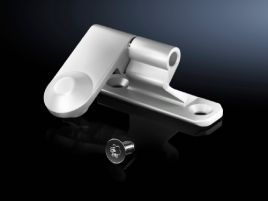 Click here for the successor item
Close
Product details
The 180° opening angle allows unhindered access. May be installed optionally from the inside or outside of the enclosure. Simply replace 3 enclosure panel fasteners with hinges. Despite the hinge, the protection category of the enclosure is retained.
+
Product description
Description:
The 180° opening angle allows unhindered access. Optionally installed either from the inside or outside of the enclosure.

Benefits:
Despite the hinge, the protection category of the enclosure is retained

Applications:
Replace the 3 enclosure panel holders with hinges

Material:
Die-cast zinc

Colour:
RAL 7035

Supply includes:
Assembly screws

Note:
Side panel and door hinges may only be installed on the same enclosure section when using a 180° door hinge
Caution! Hinged and non-hinged side panels, doors and rear panels must always be opposite one another.
Only one surface of each vertical enclosure section is available for mounting (hinges of the side panel).

To fit:
Enclosure type: TS
Enclosure type: TS IT

Packs of:
6 pc(s).

Weight/pack:
0.97 kg

EAN:
4028177246997

Customs tariff number:
83024900

ETIM 7.0:
EC001167

ETIM 6.0:
EC001167

eCl@ss 8.0/8.1:
27409219

eCl@ss 6.0/6.1:
27182101

Product description:
TS Hinge for side panel, screw-fastened, sheet steel

–
Customers who interested in this item also interested in