Mobile Design Center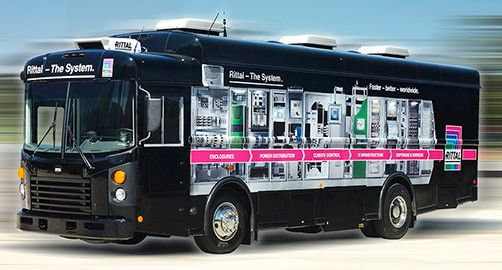 Mark your calendar! It's time to get on the bus!
The Rittal Mobile Design Center could be making its way to your city. This Bluebird bus, converted into a traveling product showroom, has trekked across the country for nearly two years and isn't stopping any time soon – except to host another event. Get on board for a tour of Rittal's product line - featuring freestanding enclosures, wall mounts, climate control, and power distribution.
Visitors on the bus will have access to literature and a hands-on experience with Rittal's products.
MDC has the ability to access practically any parking location.
Based on Bluebird commercial diesel chassis
36' long, 13' high, 8' wide, 26,000 lbs with product
3' x 30' aisle, front entry and rear exit doors for easy access
Onboard climate control, leveling system, power awning, onboard video and wireless
Below you'll find the MDC schedule to help plan your use of this innovative educational and marketing tool. For more information on cities and dates, please reach out to your local distributor or Rittal Sales Rep.
2018