Rittal Systems Canada recognized as a Great Place to Work®
2017-05-05. Mississauga, ON - Thinking out of the Box has landed the world's largest enclosure manufacturer in this prestigious list of Best Places to Work in Canada!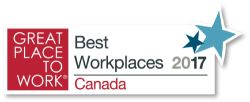 Rittal Systems Ltd. is being recognized as one of this year's Best Workplaces in Canada. This list, and related stories, appeared in a special national report on Thursday April 27, 2017 in The Globe and Mail.
Rittal is established in more than 70 countries with 13 manufacturing sites, and their distributors and customers benefit from years of experience in impeccable global customer service. Rittal's innovative products such as the TS8 Modular enclosures, the Blue e+ (industry's most energy-efficient enclosure cooling units), and the fully certified power distribution systems provide the ability to create "custom from standard" solutions that have set the Company apart. Rittal partners with a wide network of distributors and is committed to excellence and improving the standards and quality of their solutions.
"While Rittal Systems is proud of its market-leading products, global network and excellent track record, we acknowledge that our greatest asset is our people. We are dedicated to making the working experience at Rittal as motivating and rewarding as possible," said Tim Rourke, President of Rittal Systems Ltd.
Rittal employees have identified the frequent online training delivered to team members' desktops along with articles, videos and brain challenging exercises and games, the amazing summer barbecues and company activates, as well as the employee peer recognition program with rewards, as being some of the key reasons why they enjoy working and growing with Rittal Systems Canada.
The 2017 Best Workplaces in Canada list is compiled by Great Place to Work® Institute Canada. The competition process is based on two criteria: two-thirds of the total score comes from confidential employee survey results; the remaining one-third of the score comes from an in-depth review of the organization's culture, including an evaluation of HR policies and procedures. This offers a rigorous representation of the organization from an employee perspective, and an overall portrait of the workplace culture. Together, they provide crucial data relative to the five trust-building dimensions of a great place to work®: credibility, respect, fairness, pride, and camaraderie.
This year's list received over 400 registrations and over 60,000 employees participated in the 2017 "Best Workplaces in Canada" survey.
For information please contact the Institute at bestworkplaces@greatplacetowork.ca or visit www.greatplacetowork.ca .
About Rittal Systems:
Rittal Systems Ltd., headquartered in Mississauga, Ontario, is the Canadian Subsidiary of Rittal GmbH & Co. KG, with headquarters in Herborn, Germany, and is one of the world's leading system suppliers for enclosures, power distribution, climate control, IT infrastructure and software & services. Customers from all sectors of industry, from mechanical and plant engineering, as well as from the IT and telecoms market are making use of system solutions from Rittal. Founded in 1961, Rittal is now active worldwide with 10 production sites, 63 subsidiaries and 40 agencies. With 10,000 employees worldwide, Rittal is the largest company of the proprietor-run Friedhelm Loh Group of Haiger, Germany. The entire group employs more than 11,000 people and expects to generate revenues of € 2.2 billion in 2011. Further information at www.rittal.ca and www.friedhelm-loh-group.com .
About Great Place to Work:
Great Place to Work® is the global authority on high-trust, high-performance workplace cultures. A research and consulting firm whose mission is to build a better society by helping companies transform their workplaces. Great Place to Work® provides the benchmarks, framework, and expertise needed to create, sustain, and recognize outstanding workplace cultures. In Canada, Great Place to Work® produces a industry and demographic specific Best Workplace lists. This is part of the world's largest annual workplace study, which culminates in a series of national lists in over 50 countries, including the study's flagship list of 100 Best companies published annually in Fortune magazine. Globally, this survey represents the voices of 11 million employees, including approximately 300,000 from Canada alone. It's what makes this study so credible: the primary determinant used in selecting winners is an employee survey. There's only one way to get on this list – and that's if your employees put you there. Check out Great Place to Work online at www.greatplacetowork.ca
Media Contact:
Sandra Abuwalla
Rittal Systems Ltd.
6485 Ordan Drive
Mississauga ON L5T 1X2
abuwalla.sa@rittal.ca
www.Rittal.ca
905-795-1272