Rittal Systems partners with the Eddy Group to strengthen its Atlantic Canada distribution network
2017-10-05. – Mississauga, ON. Rittal Systems is pleased to include the Eddy Group Limited as its newest distribution partner in the Maritimes. Over the past Century, this illustrious group has literally built the foundation of Atlantic Canada.
Eddy Group Limited, a Maritime-based wholesale distribution business, has been a construction industry distributor for over 100 years. The fourth generation family business with nine locations throughout New Brunswick and Nova Scotia, takes pride in providing quality products, customized solutions and service to their wide industrial, commercial and residential customer base.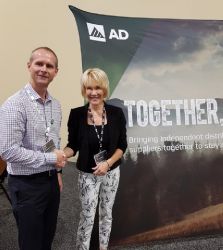 "The Eddy Group has been a pillar of strength in the Maritimes, and we are proud to partner with them, to offer our extensive range of innovative, high quality and reliable products and solutions to their customers in the Atlantic provinces," said Tim Rourke, President, Rittal Systems Ltd.
Robyn Eddy, President of Eddy Group, said, "We are really pleased to partner with Rittal Systems, with their global expertise, product excellence and amazing track record in Canada. Our business philosophy has always been "building on service", and I think that partnering with Rittal will enable us to strengthen our position as a pillar of the construction business in the Atlantic provinces, by offering the best of products to our clientele."
Tim Rourke, President, Rittal Systems Ltd.,
with Robyn Eddy, President, Eddy Group Ltd.
About Rittal Systems:
Rittal Systems Ltd., headquartered in Mississauga, Ontario, is the Canadian Subsidiary of Rittal GmbH & Co. KG, Germany, which is the world's leading system supplier for enclosures, power distribution, climate control, IT infrastructure and software & services. Founded in 1961, Rittal is now active worldwide with 10 production sites, 63 subsidiaries and 40 agencies. With over 11,000 employees worldwide, Rittal is the largest company of the proprietor-run Friedhelm Loh Group of Haiger, Germany. www.rittal.ca and www.friedhelm-loh-group.com.
Media Contact:
Sandra Abuwalla
Rittal Systems Ltd.
marketing@rittal.ca