Rittal comment on data centre trends 2018: What matters to IT managers
2018-01-09. The process of digital transformation is in full swing: At least half of global value creation could be digitized by 2021, according to a forecast by market researchers at IDC.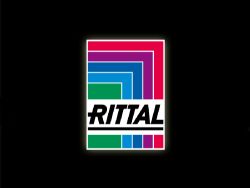 Faced with high electricity costs, it is becoming increasingly important for companies to modernize the IT landscape and make data center operations more efficient. The following review of such topics as managed cloud services, edge computing and direct current in the data center shows which technologies are most suitable. The aim is to make ongoing operations cost-effective and future-proof. A comment by Andreas Keiger, Executive Vice President Global BU IT Infrastructure, Rittal.
The multi-cloud trend
Hybrid multi-cloud environments will dominate future IT agenda: According to IDC, more than 90 percent of companies could already be using multi-cloud platforms by 2021. There are many reasons for this. For one thing, there is no one-stop cloud provider that can meet all the requirements, since complete cloud stacks always come from multiple providers. Moreover, performance, latencies, compliance and risk management often have to be implemented individually, sometimes with different cloud providers.
Typical cloud services include infrastructure services (IaaS), applications (SaaS), and development platforms (PaaS). Those who find this cloud mix is becoming too complex can rely on external providers for managed cloud services: For example, the cloud systems in the data center are operated in a completely fail-safe way and maintained by an IT service provider, while users can access the resources conveniently via their web browser or a desktop application. In 2018, to support this development, Rittal, along with its partners, will increasingly be offering turnkey data centers including cloud platforms and managed services for fail-safe infrastructures.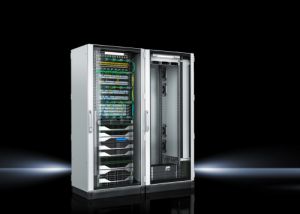 The trend towards edge computing
In the future, besides expanding central data centers, many companies will be focusing more intensively on establishing decentralized IT capacities. Here, the driving forces include modern Industry 4.0 (IoT) applications: Due to the automated production facilities installed there, a large amount of sensor data has to be processed on site in real time. Data transfer to a central data center would delay real-time processing and overload networks and legacy systems. However, many other Internet of Things (IoT) scenarios also need extra data centers. These include networked households and smart homes, wearable fitness trackers and smart watches, as well as networked cars and IT infrastructures in smart cities. By 2019, 40 percent of IoT data could be processed and analyzed by edge IT systems, the IDC analysts say.
In addition, the new 5G mobile standard will drastically increase the volume of data needing processing. At data rates as high as 10 GBit per second, for example, a movie can be transmitted in HD resolution in just a few seconds. Anyone wanting to run IoT infrastructures in future rapid fast 5G networks should also ensure that the server performance required is provided at an early stage, so that applications can use the full network capacity. Edge data centers are used for this purpose: They enable the rapid and decentralized establishment of IT infrastructures, for example, in order to supply remote production sites or smart cities quickly with more computing power on a selective basis.
But what makes an edge data center stand out? In fact, these are turnkey IT environments, which are modular and scalable as rack or complete container solutions. The existing expansion options make these solutions suitable for companies of all sizes. Since the components for cooling, power supply, monitoring and security are pre-installed and coordinated with each other; an edge environment can be successfully created very quickly.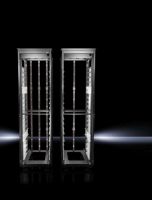 Higher energy efficiency with DC racks
However, central and homogenous hyperscale data centers will still be needed. A hyperscale infrastructure is laid out for horizontal scalability, to provide the highest levels of performance, throughput, and redundancy that are necessary for fault tolerance and high levels of availability. Operators of such systems are faced with the question of how to optimize the future running costs of their plants. DC racks provide one solution for greater energy efficiency: Two new IT rack standards have become established on the market in the shape of OCP (Open Compute Project) and Open19. Inside the IT rack, only one central power pack supplies the active IT components with DC power. This cuts about five percent of the energy costs of each rack. Data center operators who are not hyperscalers should also consider this option next year.
IT cooling concept trends
Alternative energy and cooling concepts will also be important in further improving operating costs in 2018. Providers can achieve very favorable operating costs with electricity from renewable energy sources, with air or seawater cooling and flexibly with service models. One example of this is the Lefdal Mine Datacenter in Norway: A data center has been built in a former mine. It is cooled with seawater and which uses electricity from renewable energy sources. There, companies can procure cloud services directly or operate their own private cloud systems.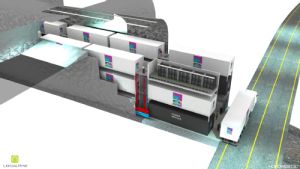 Energy recovery is another IT cooling concept for higher efficiency. This uses the waste heat generated in the data center for building climate control purposes, in order to heat hot water or to supply a district-heating network. The technology itself is not new, but the aim is to develop a long-term strategy that exceeds the usual ROI calculation of three to five years. To this end, it would be necessary for the next German federal government to promote the expansion of the district heating network in 2018, in order to give the energy revolution the new impetus that the German IT and telecommunications industries need.
Read the entire article
(Panel Builder & Systems Integrator)