E.B. HORSMAN & SON awards RITTAL with the Supplier of the Year Award
2018-03-19. Vancouver, BC. - E. B. Horsman & Son have awarded Rittal Systems Ltd, with the prestigious Supplier of the Year Award at the E. B. Horsman Annual General Meeting held on March 6, 2018 in Vancouver, BC.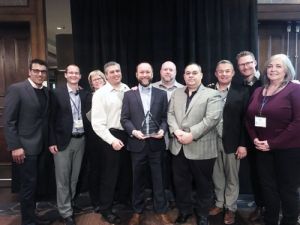 E.B. Horsman & Son , the largest independently owned full-line electrical distributor in Western Canada, and Rittal , the world's largest provider of enclosures, climate control and power distribution systems, have partnered for success for over two decades!
Throughout the year, E.B. Horsman has collaborated with Rittal to execute a myriad of sales and marketing activities such as the Summer Cooling Promo, REV Truck events, Power Distribution and Hygienic Design Campaigns, that have not only led to enhanced ROI, but more importantly, increased levels of innovation and efficiency resulting in great customer satisfaction.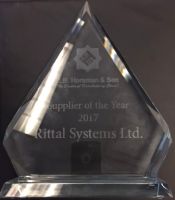 Said Tim Rourke, President, Rittal Systems Ltd., "Rittal is delighted to win this prestigious award which is the ultimate testament of our joint sales strategy, marketing activities and product innovation to satisfy the demands of our customers."
Added Tim Horsman, President, E.B. Horsman & Sons, "As a Rittal Gold Partner, we work closely with Rittal to execute a solid sales and marketing plan. We are pleased to award Rittal with the Supplier of the Year award, which is well deserved,"
E. B. Horsman has made this decision after soliciting feedback from its sales force, taking into account significant and strategic sales wins, and analyzing the effectiveness of team work and marketing campaigns, to ensure their core values of team work and collaboration are achieved at all levels of their relationship. All through 2017, E. B. Horsman & Son and Rittal have worked closely to execute sales and marketing activities to profitably grow their businesses into the future, focusing on a variety of key operational performance. The ultimate proof of joint success is the track record of happy and loyal customers!
About E. B. Horsman & Son
Established in 1900, E.B. Horsman & Son is the largest independently owned full-line electrical distributor in Western Canada. It is designated as one of Canada's Best Managed Companies. Through Operational Excellence, the company is dedicated to helping its customers grow and prosper. This leading electric distributor strives to provide customers with only the highest quality products, tenured technical expertise, and industry leading customer service. Its goal is to be the Distributor of Choice by providing its customers with the best people, products and service in the electrical industry! www.ebhorsman.com