RITTAL IS PROUD TO BE ONE OF THE TOP TEN BEST WORKPLACES™ IN MANUFACTURING IN CANADA AGAIN!
2018-07-31. Right on the heels of being recognized as one of this year's Best Workplaces™ in Canada, Rittal Systems Ltd. is proud to announce that we have been named on the 2018 list of the Best Workplaces™ Manufacturing for the second year in a row.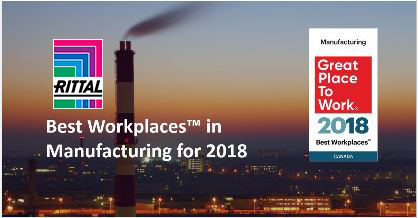 Rittal has received this honour after a thorough and independent analysis conducted by Great Place to Work®.
The list of the 10 Best Workplaces™ in Manufacturing is based on direct feedback from employees of the hundreds of organizations that were surveyed by Great Place to Work®. The data has a 90% confidence and a plus or minus 5% margin of error.
Analysis of the data to compile this list focused on the following considerations:
For eligibility, organizations must be Great Place to Work Certified™ in the past year, have a minimum of 15 employees, have operations in Canada and a minimum 90% positive score to the statement "This is a physically safe place to work".
GPTW determined the BEST based the overall Trust Index score of eligible organizations.
Tim Rourke, President, Rittal Systems Ltd., said, "This great honour of being declared as a Great Place to Work in Canada , and now on the list of the Top Ten Manufacturers in Canada, is only possible because of the hard work and commitment from every person on the Rittal team, and it is truly amazing what can be accomplished when everyone is working together towards the common objective of customer excellence".
About Rittal Systems:
Rittal Systems Ltd., headquartered in Mississauga, Ontario, is the Canadian Subsidiary of Rittal GmbH & Co. KG, Germany, which is the world's leading system supplier for enclosures, power distribution, climate control, IT infrastructure and software & services. Founded in 1961, Rittal is now active worldwide with 10 production sites, 63 subsidiaries and 40 agencies. With over 11,000 employees worldwide, Rittal is the largest company of the proprietor-run Friedhelm Loh Group of Haiger, Germany. Find us on LinkedIN @Rittal Systems Ltd. or Twitter at @Rittal_CA
www.rittal.ca and www.friedhelm-loh-group.com .
About Great Place to Work®:
Great Place to Work ® is the global authority on high-trust, high-performance workplace cultures. Through proprietary assessment tools, advisory services, and certification programs, GPTW recognizes the world's Best Workplaces™ in a series of national lists including those published by The Globe & Mail (Canada) and Fortune magazine (USA). Great Place to Work® provides the benchmarks, framework, and expertise needed to create, sustain, and recognize outstanding workplace cultures. Visit us at www.greatplacetowork.ca or find us on Twitter at @GPTW_Canada.
Media Contact:
Sandra Abuwalla
Rittal Systems Ltd.
6485 Ordan Drive
Mississauga ON L5T 1X2
abuwalla.sa@rittal.ca
www.Rittal.ca
905-795-1272