Rittal Automation Systems presents new advancements
2018-10-10. Mississauga, ON, Oct 9, 2018 – Despite automated solutions, switchgear manufacturing still involves a great deal of manual work when it comes to wire processing, cutting and machining busbars, support rails and cable ducts.
In order to automate or part-automate this work, Rittal Automation Systems is now offering new and improved machines and tools.
Automatic Wire Processing, Cutting and Machining with ease, saving time and costs!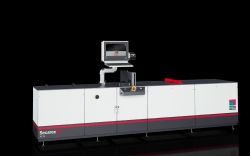 Cutting support rails and cable ducts to the right length is a task that many workshops still perform by hand. The required rail length is measured on the mounting plate and the support rail is then cut to the appropriate length. The rail may also be labelled using a felt-tip pen so that it can be allocated to an enclosure and, where necessary, to a position in the enclosure. The Secarex AC 15 cutting centre from Rittal makes these tasks much easier, quicker and more efficient, operating via an industrial PC with a keyboard and trackball. An automatic length stop ensures accurate custom-cut rails.
The process of cutting the rails to length is particularly efficient when the dimensions are transferred directly from design planning, which can be performed on the EPLAN Pro Panel, for example. Where multiple rails are required, the cutting centre calculates the optimal denomination in order to minimise waste. As part of this process, the integrated label printer also marks the finished rails so they can be easily assigned during the subsequent assembly process. The cutting centre is able to cut DIN support rails, C rails and cable ducts in all standard sizes.
Cutting, bending and hole-punching copper bars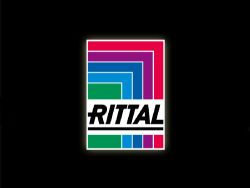 Copper bars used in switchgears for power distribution or as busbars must also be pro-cessed in the electronics workshop. In addition to cutting to length, other work steps such as bending or punching holes are often also necessary.
These tasks can be performed more quickly and safely using the CW 120 (Copper Workstation) bending and hole-punching unit. The unit is available in two versions: A stationary benchtop unit for cutting, bending and hole-punching busbars, with external hydraulic supply. A mobile version designed with castors for flexible use in the workshop, with integrated hydraulic pump. A single simple 230-V mains connection is required for the supply. Both versions can process rails at a width of up to 120 mm and thickness of up to 12 mm. Round holes can be punched in sizes between 6.6 mm and 21.5 mm. For slots, a maximum width of 21 mm and length of 18 mm are possible. Stamps and dies for round holes and slots are available as accessories and come in different sizes.
The machines produced by Rittal Automation Systems for processing support rails, cable ducts and busbars are a perfect complement to semi-automated production in switchgear manufacturing. They simplify many of the tasks that previously had to be performed manually, making the process far more efficient. The outcome: Lower costs and better quality.
Automatic wire processing – even without compressed air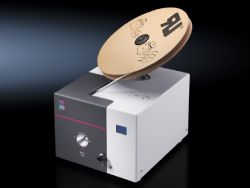 Rittal now offers stripping and crimping machines that operate purely electrically, hence without a supply of compressed air. The machine is thus particularly suitable for mobile applications, such as during commissioning or when servicing. Smaller workshops, where no compressed air is available, also benefit from the new automatic crimping machines.
The R8E is controlled by a touch panel display that allows the operator to make settings via an intuitive menu navigation. The stripping unit can be easily adjusted and can process cables with cross-sections ranging from 0.5 mm² to 2.5 mm². These are then provided with insulated wire end ferrules with a crimping length of 8 mm. The working speed is very high, thanks to supply by taped wire end ferrules. The integrated daily piece counter also helps to make work easier. Matching taped wire end ferrules are also available. These allow UL compliant cable assembly using the R8E. Rittal also offers loose wire end ferrules and hand-held tools for wire processing.
To learn more, email marketing@rittal.ca