Rittal wins the CDCXA Award of Excellence for Data Centre Facility Infrastructure at GCDCS 2019
2019-06-21. Presenting a Unique Edge for the IT & Industrial Sectors!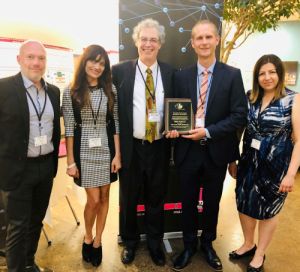 *The* Data Centre event in Canada also known as The Great Canadian Data Centre Symposium was held on June 19-20 at McMaster Innovation Park, Hamilton. Following last year's acclaimed 'first annual' Great Canadian Data Centre Symposium, #GCDCS19 has been designed to connect the Canadian (and North American, and global) data centre community around the development of best practices that are critical to IT service delivery.
The Symposium kicked off with an 'all star' plenary panel, including senior executives from technical and business management, academia and the public sector, Canadian and US/international thought leaders. The main part of the day consisted of five 'main stage' panel discussions - each kicked off by a brief research-based presentation delivered by industry representatives - that address critical data centre issues. At the same time, breakout sessions allowed extensive opportunities to peer-to-peer discussions.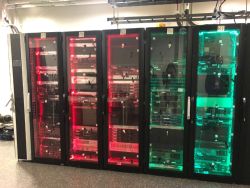 Rittal displayed their industry-leading Data Centre Solutions at the event along with other leading IT solutions suppliers. You may already familiar with Rittal, a leading manufacturer of IT infrastructure solutions , that offers 19" racks and enclosures, high density cooling, remote access and control, and power distribution solutions.
At the GCDCS event, one of the highlights is always the tour of the Computing Infrastructure Research Centre (CIRC) facility, which displays Rittal's high density, closed-loop cooling and enclosure systems. This joint project came about as a way for CIRC to capture and maximise efficiencies on the cooling side as well as reduce power consumption. By using Rittal's market-leading IT infrastructure technology, the CIRC team was able to fully leverage resources and create value to the industry.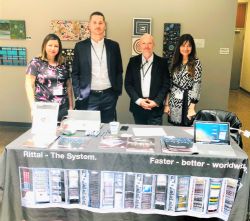 Globally, Rittal's data centre solutions have been deployed in diverse areas from the Lefdal Mine in Norway to the Smart City in Korea. Read more about Rittal's global IT wins here .
The CDCXA Awards
This year's highlight was the newly introduced Canadian Data Centre Excellence Awards (CDCXA) and dinner. Rittal was pleased to be the Welcome Sponsor of the inaugural CDCXA Awards, that grew out of a desire to shine a spotlight on the data centre management teams and supplier organizations whose contributions are an essential element of Canada's knowledge economy and global competitiveness. These Awards are a culmination of several months of intensive research, surveys, interviews and evaluations of vendors and end-users' data centre projects and innovations, and they recognize the highest levels of excellence in the IT industry.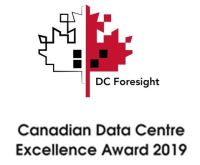 Rittal was delighted to be declared a CDCXA Excellence Award Winner for Data Centre Facility Infrastructure – an award that spanned 3 categories: Edge Deployment, Racks and Cooling Systems, after being nominated and voted for by the data centre community!
Said Tim Rourke, President, Rittal Systems Ltd., who accepted the Award on behalf of Rittal, "Rittal is pleased to be a part of this integral Data Centre Community in Canada, and contribute to Industry 4.0 with our 'Discover the Edge' data centre solutions . We are delighted that our world-leading range of IT racks, cooling, security & monitoring systems and software can benefit the industrial as well as IT sectors!"
For more information, please contact IT@rittal.ca .
Click here to visit our Data Solutions Page.
About Rittal Systems:
Rittal Systems Ltd., headquartered in Mississauga, Ontario, is the Canadian Subsidiary of Rittal GmbH & Co. KG, with headquarters in Herborn, Germany, and is one of the world's leading system suppliers for enclosures, power distribution, climate control, IT infrastructure and software & services. Customers from all sectors of industry, from mechanical and plant engineering, as well as from the IT and telecoms market are making use of system solutions from Rittal. Founded in 1961, Rittal is now active worldwide with 10 production sites, 63 subsidiaries and 40 agencies. With over 10,000 employees worldwide, Rittal is the largest company of the proprietor-run Friedhelm Loh Group of Haiger, Germany. www.rittal.ca