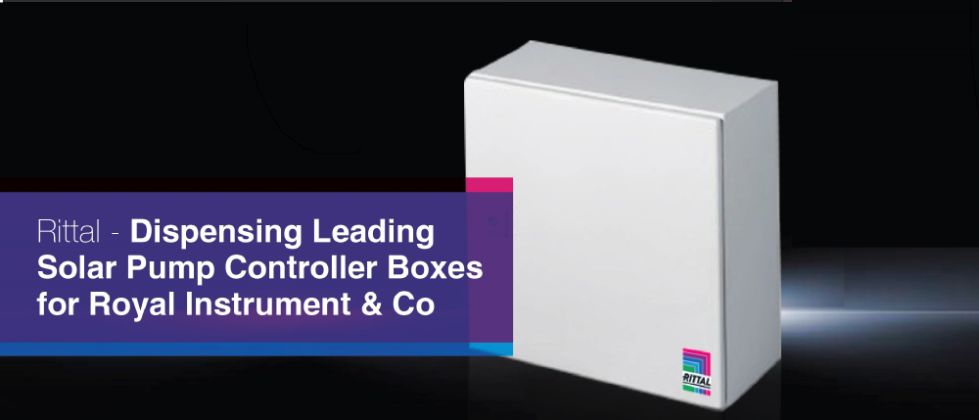 Rittal - Dispensing Leading Solar Pump Controller Boxes for Royal Instrument & Co
Royal Instrument & Co are the Renewable Energy Leader and the fastest growing suppliers of the diverse solar products and services in the Eastern Region of India. India has become one of the world leaders in the renewable energy sector, with various assistance programs from the government and focus on reducing the carbon foot print, the renewable energy sector has become one of the fastest growing areas for businesses.
For Royal Instrument & Co tapping this market opportunity was a matter of great importance. State government provide various subsidies for the companies operating in this sector. Royal Instrument & Co wanted to get their UL certification done to provide assurance to their customers for their product range and to participate in government schemes and tenders.. So, it was extremely important for them to have all their products genuine and upto the mark, including the IP 66 Solar Pump Controller Boxes.
What is Solar Pump Controller Box?
A Solar Pump Controller Box is an enclosure that consists of VFD which is selected based on the capacity of the Solar Pump required to be installed, it also consists of a series of MCB's and start/stop switch. Solar Pump Controller Box is installed on the galvanized structure that holds the solar modules as well as the water storage tank and plays a pivotal role in protecting the aforesaid components that govern the complete functionality of the solar integrated pump.
Essentials of Royal Instrument & Co
The quality of the products was of utmost importance for Royal Instrument & Co so that they could participate in the state and central government schemes and tenders. Due to the poor quality of boxes from the previous service provider, Royal Instrument & Co had to face losses due to IP issues leading to drive failure and a breach of guarantee they gave on their product.

Excellence of Rittal Solutions
Rittal has been a pioneer in providing top-notch engineering solutions for companies since 1961. Our legacy has made us one of the top service providers for major engineering companies around the world. The executives at Royal Instrument & Co were aware of our technical expertise due to our legacy and the recommendations made by the retailers under their company. We invited them for a factory visit to observe our production processes to acquaint them with our state of the art production facility, standards and procedures. Post factory visit the Director at Royal Instrument & Co approved and agreed the following-

content with our solutions and affirmation on quality, they purchased our Solar Pump Controller Boxes at a premium as compared to our competitor because they also believe in providing quality products to their customers like we do.
Implementing Rittal Expertise
Our quality and standards helped us to bag an order of 5000 boxes and 11000 filters from Royal Instrument & Co. We were very delighted that our solution was the perfect fit for their requirement. Rittal boxes were
Our association with Royal Instrument & Co fulfilled their requirement and helped them to acquire the UL certification for participating in Government Schemes and Tenders with respect to renewable energy sector. This helped us in creating a long-lasting partnership with Royal Instruments & Co.

Rittal - Faster - Better - Everywhere
Rittal is World's Leading Systems provider for enclosures, power distribution, climate control, IT infrastructure and software & services. Our team of service partners and trained service engineers help us to provide innovative maintenance services in Rapid Response time. Ensuring impressive and dependable systems in full availability with all application areas worldwide, 24/7, 365 days a year.