Electrotherm (India) Limited, an ISO 9001:2015 certified, public limited company, was founded in 1983 to cater to the needs of all segments of the steel industry, foundries and heat treatment industry. Today, Electrotherm is a well-diversified conglomerate having businesses in the field of Engineering & Technologies catering to steel and foundry industry; transformer manufacturing; steel making; ductile iron pipe making; manufacturing of battery-operated vehicles; renewable energy; transmission line tower and education.
Being a customer-centric organization with a focus on meeting changing needs of its customers, Electrotherm has full-fledged Research & Development Centre at its Corporate Office & Works in Ahmedabad with state of the art manufacturing set up and modern office complex. Electrotherm has been the pioneer in India in introducing the first-ever largest capacity melting machines and the first-ever high voltage systems for efficient melting.
ELECTROTHERM INDIA
Electrotherm manufactures induction furnaces from 500 kilograms to 60 tons. These are ideal for melting ferrous metals (iron & steel) with superior performance & minimized heat loss during the process.
The power supply units for the induction melting furnaces are equipped with latest State-of-the-art Digital Inverter technology through Fibre Optic Communication (DiFOC) systems to handle loads up to 36,000 kW.
PROBLEMS FACED BY ELECTROTHERM INDIA
Electrotherm required a trusted partner for delivery of reliable enclosure solutions for the Power Supply Units.
A standard baying from 3 to 8 enclosures was vital for smooth operations. The number of enclosures required increased with the capacity of furnaces.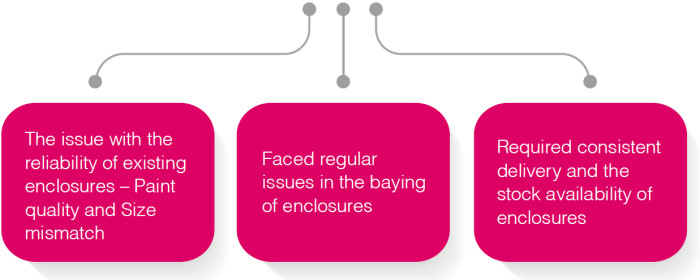 SOLUTION IMPLEMENTED BY RITTAL
Rittal's fully symmetrical and world-wide patented TS 8 Enclosures were supplied to address the quality, delivery and baying issues of existing enclosures of Electrotherm.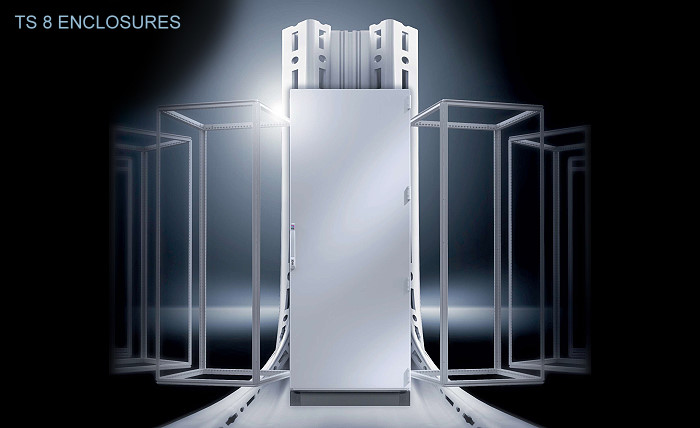 The TS 8, designed specifically for demanding industrial applications like the metal melting industry, features a 16-fold tubular frame and multi-level mounting capability for unsurpassed strength and flexibility. Due to its symmetrical profile in terms of width and depth, the TS 8 baying system saves considerable space and facilitates easy internal installation. It also allows a baying arrangement on all sides. In addition, the integrated, automatic potential equalization of all enclosure panels and the triple machining of the surface ensures maximum safety.
OPTIMUM SURFACE PROTECTION
The three-phase surface finish of the TS 8 baying system promises optimum corrosion protection and resistance to mineral oils, lubricants, machining emulsions and solvents such as those used in cleaning.
MAXIMUM QUALITY AND SAFETY IS A THREE-STEP PROCESS
1st phase: Nanoceramic primer
2nd phase: Electrophoretic dipcoat priming
3rd phase: Textured powdered coating
BENEFITS FOR ELECTROTHERM
Standardised and redesigned the baying for Electrotherm's enclosures with the TS 8 Enclosures from Rittal
Stock maintained at Rittal India's Modification centre at Ahmedabad to ensure on-time delivery within 48-hours
Supplied high-quality TS 8 Enclosures with paint colour customisation of RAL 5021 as required by Electrotherm
PRODUCT INSTALLATION AT THE SITE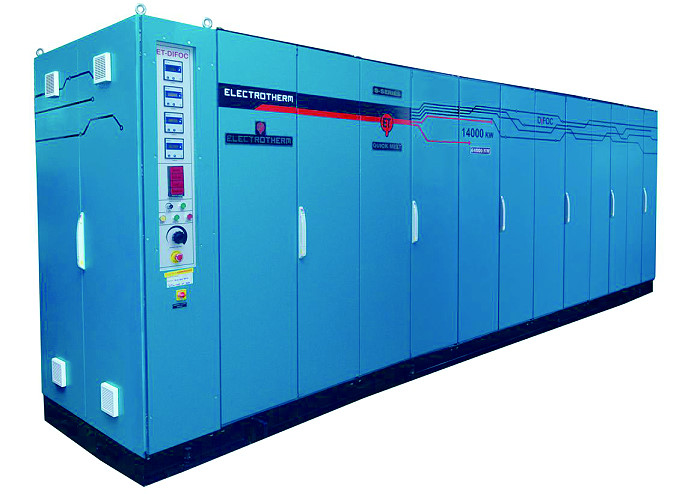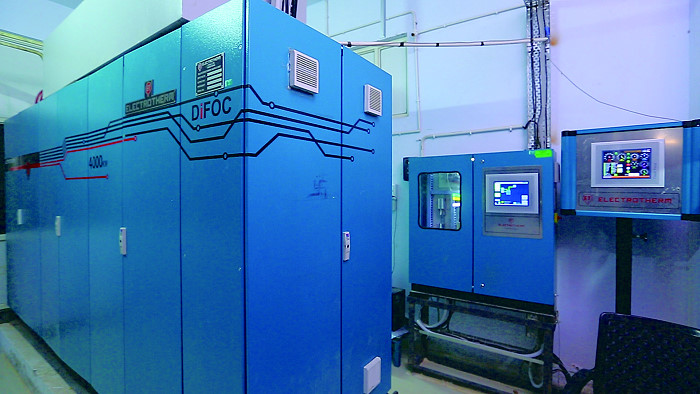 CUSTOMER TESTIMONIAL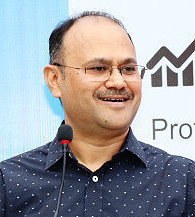 "We are very happy with the quality of enclosures and fittings supplied by Rittal India. The aesthetic of the product is very good and the powder coating is done as per the international standard. Our end users are also happy with the product. Since they store their material at their local warehouse, the enclosures are delivered within 24 hours of the order. We feel it was a wise decision to switch over to Rittal from local vendors where we strived on quality and delivery."
HARISH MUKATI
Executive Director of Operations,
Electrotherm
RITTAL INDIA
Rittal is world's leading systems provider for enclosures, power distribution, climate control, IT infrastructure and software & services. Developed using state-of-the-art technologies, our products offer definite benefits to the customers in particular with regard to quality, technical capability, range and availability 24/7, 365 days a year.