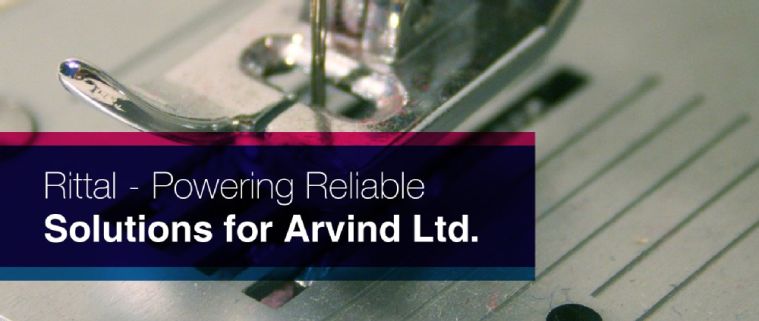 Rittal - Powering Reliable Solutions for Arvind Ltd.
Technical Disruption at India's Largest Manufacturer of Denims It was a chaotic situation at Arvind Ltd, the cooling units at the plant was regularly facing disruption due to technical snags. Arvind Ltd, World's Fourth-Largest Producer and Exporter of Denims couldn't afford this failure to affect their production activity.
Need of the Hour
The criticality for Arvind Ltd was to maintain the efficiency level of their plant and keep the production running. It just wasn't possible, periodic breakdowns made it difficult for Arvind Ltd. to function at its full potential. Even after acquiring all the necessary resources they were still unsuccessful in making sure that maximum utilisation of resources was attained.
Hurdles on Road
The cooling units at Arvind Ltd were of Rittal and Non-Rittal make which was serviced by a local vendor. Due to this, their biggest obstacle was the inaccurate technical expertise they received from other service providers. They got the cooling units fixed everytime, only for it to breakdown after a while. Temporary solutions were always available,Technical Disruption at India's Largest Manufacturer of Denims however the concrete solutions were yet to be provided by Rittal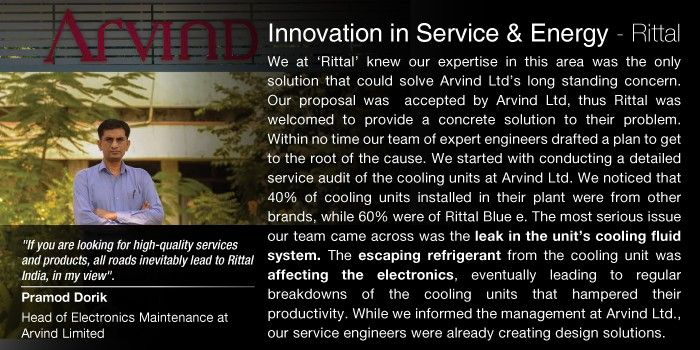 Partnering in Trust & Innovation
Rittal was able to propagate our goodwill in the books of Arvind Ltd after we implemented the solution to fix up the leakage from the cooling units. Our High quality service reduced 70% of the system failure which led to increase in efficiency & productivity. The excellent functioning of the cooling units was acknowledged by Arvind Ltd, flourishing our relationship with them for a long term.
Rittal - Faster - Better - Everywhere
Rittal is world's leading systems provider for enclosures, power distribution, climate control, IT infrastructure and software & services. Known in high regard for our product and services, our versatile and flexible range of services perfectly compliment the exhaustive product portfolio that we put up. Our team of 150 service partners and over 1000 trained service engineers help us to provide innovative maintenance services in Rapid Response time. Ensuring impressive and dependable systems in full availability with all application areas worldwide, 24/7, 365 days a year.
.