Partial doors for TS
Model No.
SV 9672.169
Discontinued article.
Information on the discontinued articles
This item will be discontinued on 15.02.2019
This item is being replaced by
9682169
Partial door for VX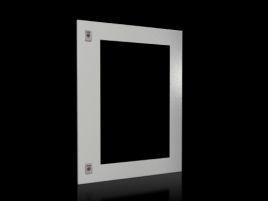 Click here for the successor item
Close
+
Product description
Design:
with viewing window

Description:
Suitable for TS enclosures instead of a door or rear panel. The partial doors may be combined with one another as required. A trim panel is required at the top and bottom in each case. Door may be optionally hinged on the right or left. In the case of doors without viewing panel (height 600 – 1000 mm), monitor frame SZ 2305.000 may be installed. Standard double-bit lock insert may be exchanged for lock inserts, type F, and from 600 mm height, for comfort handle.

Material:
Sheet steel, 2 mm
Viewing window: Single-pane safety glass, 3 mm

Surface finish:
Textured paint

Colour:
RAL 7035

Protection category IP to IEC 60 529:
IP 54 for a completed enclosure

Supply includes:
Cross member
Hinges
Lock components
Assembly parts

To fit:
Width: = 600 mm

Dimensions:
Width: 600 mm
Height: 800 mm

Packs of:
1 pc(s).

Weight/pack:
8.3 kg

EAN:
4028177697898

Customs tariff number:
94039010

ETIM 7.0:
EC000747

ETIM 6.0:
EC000747

eCl@ss 8.0/8.1:
27182204

eCl@ss 6.0/6.1:
27182290

Product description:
SV Partial door, WH: 600x800 mm, for TS, with viewing window

–
Customers who interested in this item also interested in
Product data (ZIP)
Rittal does not assume any liability for the topicality of the data downloaded locally on your device.
I agree