TS isolator door cover (US version)
Model No.
TS 8950.060
Discontinued article.
Information on the discontinued articles
This item will be discontinued on 15.02.2019
This item is being replaced by
8951010
Interlock kits for VX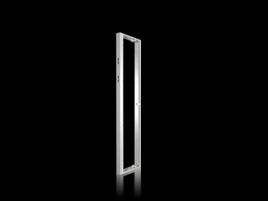 Click here for the successor item
Close
Product details
UL-compliant safety lock for enclosure suites in accordance with US regulations. The isolator door cover, in conjunction with the operating mechanism, adjacent door lock and interconnecting rods, meets the requirements of UL 508 A.
+
Product description
Description:
Including main door lock for safety locking of enclosures and bayed enclosure suites in accordance with US regulations, only in conjunction with actuator lever for master switches.

Benefits:
In combination with operating mechanism, adjacent door latch, interconnecting rods meets the requirements of UL 508 A.
Compact design with a width of 125 mm, may be mounted optionally on the left or right of the enclosure. With this cover, all standard single-door TS 8 enclosures may be configured as isolator door enclosures. The complete installation surface of the enclosure is retained.
In conjunction with the integrable TS mounting plate infill, the mounting surface of the main enclosure can be enlarged by around 100 mm in width.
Cover may only be mounted on a single-door enclosure with tubular door frame
Two cut-outs for actuator levers on the front, for internal mounting at varying heights

Applications:
Allen Bradley: 1494 F-M1/P1/S1 and 140 U-K-FCX04
Square D: 9422 A1
General Electric: TDA Type 1 and 2
Eaton NZM2(3)-XSH-12-...-NA for type 4x
Eaton NZM2(3)-XSH-12-...-NA for type 12
Siemens actuator for operating mechanism with bowden cable (Max-Flex drives) for moulded-case circuit-breakers 3VL UL:
3VA9978-0CH72, epoxy-coated steel, printed with ON/OFF in red/black (also included with the scope of supply of complete Max-Flex kits 3VA9..8-0CK12)
3VA9978-0CH82, chrome-plated steel, printed with ON/OFF in red/black
3VA9978-0CH74, epoxy-coated steel, printed with ON/OFF in black/black
3VL9600-3JP61, epoxy-coated steel, printed with ON/OFF in black/black
Siemens actuator for operating mechanism with bowden cable (Max-Flex drives) for moulded-case circuit-breakers 3VL UL:
3VL9600-3JP01, plastic, printed with ON/OFF in red/green (also included in scope of supply of complete Max-Flex kits 3VL9.00-3JM01)
3VL9600-3JP21, epoxy-coated steel, printed with ON/OFF in red/black
3VL9600-3JP41, chrome-plated steel, printed with ON/OFF in red/black
3VL9600-3JP61, epoxy-coated steel, printed with ON/OFF in black/black
Siemens actuator for operating mechanism with Bowden cable (Max-Flex drives) for SENTRON series circuit-breakers (ED, FD, LD, JD, ...) US model no.: FHOH, epoxy-coated steel, printed with ON/OFF in red/black

Material:
Sheet steel

Surface finish:
Powder-coated

Colour:
RAL 7035

Protection category IP to IEC 60 529:
IP 55

Protection category NEMA:
NEMA 12

Supply includes:
Main door lock, cover plate and assembly parts.

Note:
The enclosure in front of the isolator door cover must be a single-door enclosure

Dimensions:
Width: 125 mm
Height: 2000 mm
Depth: 600 mm

Packs of:
1 pc(s).

Weight/pack:
29.6 kg

EAN:
4028177693029

Customs tariff number:
73269098

ETIM 7.0:
EC000712

ETIM 6.0:
EC000712

eCl@ss 8.0/8.1:
27180101

eCl@ss 6.0/6.1:
27189290

Product description:
TS TS isolator door cover (US version), WHD: 100x1800x500 mm

–
Customers who interested in this item also interested in