Rittal collaborates in the manufacture of the first field respirator, the Leitat 1.3
2020-04-14. AX Compact enclosure plays a key role in the battle against COVID-19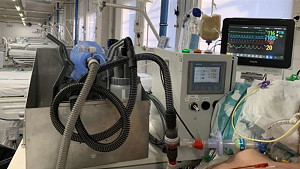 Rittal's recently launched
AX compact enclosure
is playing a vital role in the production of one of the first field respirators, the
Leitat 1.3
, which will be a key player in the fight against COVID-19.
COVID-19 has caused a global pandemic that is forcing countries across the planet to adopt unique measures and to seek innovative solutions to assist their healthcare sectors in protecting their population from the deadly virus.
One of these solutions is the ground-breaking project to manufacture a fully functional field respirator, designed by Leitat's senior engineer, Mr. Magí Galido and medically validated by the team of Dr. Lluís Blanch, from Parc Taulí de Sabadell, an expert in Mechanical ventilation. This is the result of an alliance between the Free Zone Consortium (CZFB), Hewlett Packard, Leitat (Tecnio) together with CatSalut, through the Consorci Sanitari de Terrassa (CST) and the Hospital Parc Taulí de Sabadell.
In just over a week, the design of the first LEITAT 1 field respirator has been fully operational. This was corroborated by the first tests carried out on a patient affected by the COVID-19 virus, at the Hospital Parc Taulí.
The enhanced respirator, renamed LEITAT 1.3, has been improved from the initial prototype by incorporating volumetric sensors, pressure sensors or oxygen alarms, among other aspects, to facilitate its use by healthcare personnel and guarantee its functionality for a longer period of time in assisted breathing for patients severely affected by the coronavirus. It has obtained the approval of the Spanish State Agency for Medicines and Health Products, which guarantees the safety of a respirator designed to be produced on an industrial scale. The daily production is estimated to reach 50 units and its cost will be about 10 times lower than that of a conventional respirator.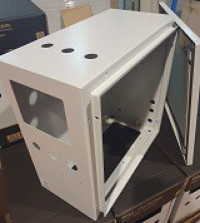 Rittal's humanitarian & technological contribution to Leitat 1.3
Rittal is proud to have collaborated in the manufacture of this premier field respirator, putting all its knowledge, research and innovation at the disposal of the healthcare sector.
To manufacture this revolutionary respirator, Rittal has provided its compact AX enclosure , recently launched in the market. Rittal's AX 1380.000 is being used to protect the control switchgear, and is made of sheet steel, 380 mm wide, 380 mm high and 210 mm deep. The new carbon steel compact enclosure AX offers maximum data quality and consistency in engineering, flexibility, and safety in assembly and interior installation.
Read more here .
Rittal has also contributed to the enclosure and mounting plate machining procedure, both carried out from its MOD Center, with the help of the
Perforex machining center
, as well as in the manufacture of the PCA mechanical support, availing of all its resources in order to supply the necessary units in record time for both prototypes and series production.
Dr. Cande de Haro, from Parc Tauli, explains in the following video the operation of Leitat 1.3 validated by all agents. This project has been developed together with health entities, research laboratories, and several other companies like Siemens, Weidmüller, Festo, besides the ones that you can see in the video below, where the AX is better shown.
Watch video