Pole clamp for KL, EB, BG, AE, KS and CS wall-mounted enclosures
Model No.
SZ 2584.000
Discontinued article.
Information on the discontinued articles
This item will be discontinued on 30.09.2020
The indicated successor item is suitable for the enclosure systems KX, AX, AX IT and AX plastic enclosures
2584100
Pole clamp for AX, KX, AX plastic, AX IT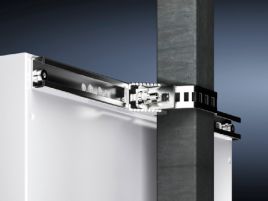 Close
Product details
For reliable, convenient fastening to round or square poles.
+
Product description
Description:
For reliable, convenient fastening to round or square poles.

Applications:
For pole diameter: Ø from 40 to 190 mm
For pole size: ◻ from 50 to 150 mm

Material:
Mounting angles, clamping section: Sheet steel
Clamping strap: Stainless steel 1.4301 (AISI 304)

Surface finish:
Mounting angle, clamping section: Zinc-plated

Supply includes:
2 mounting angles, 600 mm long
2 clamping straps
4 clamping brackets
4 screws and captive nuts M8 for mounting on the enclosure.
4 clamping sections

To fit:
Enclosure type: KL
Enclosure type: EB
Enclosure type: BG
Enclosure type: AE
Enclosure type: KS
Enclosure type: CS wall-mounted enclosures

Installation options:
Designed for 600 mm wide enclosures
By cutting the rail to length or drilling additional holes on the enclosure, the pole attachment may also be fitted to larger and smaller enclosures

Packs of:
2 pc(s).

Weight/pack:
2 kg

EAN:
4028177028760

Customs tariff number:
83024900

ETIM 7.0:
EC002625

ETIM 6.0:
EC002625

eCl@ss 8.0/8.1:
27189234

eCl@ss 6.0/6.1:
27182405

Product description:
SZ Pole clamp, for KL, EB, BG, AE, KS and CS wallmounted enclosures