Discontinued article.
Information on the discontinued articles
Product expires on 30.11.2020
This item is being replaced by
1444000
Plastic enclosures AX without viewing window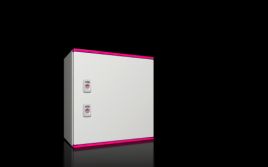 Close
Product details
Spare parts
Wall-mounted enclosure with door of of fibre-glass reinforced, non-saturated polyester, with mounting plate. Optionally with or without glazed door. Protection category IP 56 or IP 66. Infinite mounting plate depth adjustment, thanks to multiple mounting levels in the enclosure. Flexible interior door configuration using press-fitted mounting bosses in the door. High stability thanks to use of fibre-glass reinforced plastic.
+ Product description
Design:
Without viewing window

Material:
Enclosure and door: Fibreglass-reinforced unsaturated polyester
Door: All-round foamed-in PU seal
Mounting plate: Sheet steel
Viewing window: Glazed acrylic, 3.0 mm with all-round rubber cable clamp strip

Surface finish:
Enclosure and door: Dyed plastic with no after-treatment
Mounting plate: Zinc-plated

Colour:
Similar to RAL 7035

Protection category IP to IEC 60 529:
IP 66

Protection category NEMA:
NEMA 4X

IK Code:
IK08

Supply includes:
Enclosure with hinged door, of all-round solid construction, 3 mm double-bit lock
Mounting plate
Twin seal on the top and bottom edges of the door as integral rain protection strip
Press-fitted C sections at the sides for infinitely variable mounting plate depth adjustment

Note:
Under the influence of long-term UV radiation (sunlight) in conjunction with wind and rain, the surface finish may become visually impaired. This does not affect the protection of the installed electrical components in any way. If the enclosures cannot be protected from UV radiation, we recommend that they should be painted with a PUR paint. Ambient temperature -30 °C...+75 °C.

Basic material:
Plastic

Dimensions:
Width: 400 mm
Height: 400 mm
Depth: 200 mm

Material thickness:
Mounting plate: 2.5 mm

Mounting plate:
Width: 345 mm
Height: 350 mm

Number of doors:
1

Door hinged on the right, may be swapped to the left:
yes

Lock version:
Cam

Number of locks:
2

Lock insert:
3 mm double-bit

Packs of:
1 pc(s).

Weight/pack:
7.9 kg

EAN:
4028177526679

Customs tariff number:
94037000

ETIM 7.0:
EC000261

ETIM 6.0:
EC000261

eCl@ss 8.0/8.1:
27180101

eCl@ss 6.0/6.1:
27180101

Product description:
KS Plastic enclosure, WHD: 400x400x200 mm, Fibreglass-reinforced unsaturated polyester, with mounting plate, with door