RiLine Compact - Rittal's smart power distribution system
2018-02-19. Rittal, the leading supplier of reliable power distribution and backup systems, has introduced the new RiLine Compact system for compact power distribution in enclosures and small control cabinets.
Power distribution in confined spaces, that saves time, resources and enhances safety
Standardisation of control gear and switchgear is one of the most effective ways to reduce engineering and configuration costs. This is true for products both large and small – as Rittal demonstrates with its new RiLine Compact busbar system . These busbars do not require holders, and have end-to-end contact hazard protection. Switching and protective devices can be connected quickly and easily – saving time and effort during engineering and downstream installation. These save time and materials, and improve operator safety.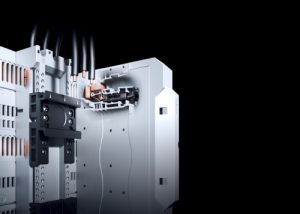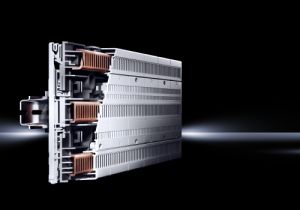 Tim Rourke, President, Rittal Systems Ltd, said, "The RiLine Compact system is a forward-thinking solution for modern low-voltage distribution. The key benefits to our customers are that they save space, are easy to assemble, enable quick and safe connections, and are guaranteed for use in Canada and globally, meeting required cUL and IEC standards".
An overarching system
Manufacturers are moving away from stand-alone power distribution enclosures for individual control units. Instead, they are looking to create an overarching system within a single enclosure, serving multiple controllers – each one assigned to a specific machine. The new Rittal RiLine Compact , designed for control units that require a maximum current of 96 A, addresses this need. Despite its size, the busbar system distributes power effectively and reliably, in compliance with all applicable standards. The innovative technology is ideal for small switchgear and controllers, and for direct integration into plant and equipment.
RiLine Compact marks Rittal's entry into a new market segment for low-current power distribution. Currently, most systems designed for up to 96 A feature comb busbars or conventional wiring. However, this type of wiring devours time and effort, and can result in numerous individual connections – and a confusing configuration. Moreover, the drawback of comb busbars is that they vary by manufacturer and design type, and are not standardised and modular. And busbar systems are rare below 96 A, meaning many have a highly customised configuration, making assembly and installation complex and time-consuming.
All-round contact hazard protection
RiLine Compact comprises a board with busbars entirely enclosed in covers that safeguard against unintentional contact. A connection can be easily established anywhere along the length of a busbar via a series of access apertures (called the pitch pattern) in the board. Switchgear and control units can be simply "plugged in" using a variety of adaptors. In addition, an adapter for connection to round conductors is available, as well as a variety of functional modules for motor and power control.
Quick, Safe assembly
One of RiLine Compact's primary strengths is that it can be rapidly configured, assembled and installed. The main board and diverse components can be securely mounted without the need for tools. Because the entire system is shielded by covers, users are protected against live parts. This enhances safety for operators and for the system as a whole. Furthermore, it saves time and cuts costs.
Download the RiLine Compact Brochure today!

Please read the entire release in Electrical Line Magazine

Visit www.rittal.com/riline or contact marketing@rittal.ca for more information.
About Rittal Systems
Rittal Systems Ltd., headquartered in Mississauga, Ontario, is the Canadian Subsidiary of Rittal GmbH & Co. KG, Germany, which is the world's leading system supplier for enclosures, power distribution, climate control, IT infrastructure and software & services. Founded in 1961, the Group is now active worldwide in over 100 countries, with 18 production sites, 80 subsidiaries and over 11,000 employees worldwide, Rittal is the largest company of the proprietor-run Friedhelm Loh Group of Haiger, Germany.
www.rittal.ca and www.friedhelm-loh-group.com .
Media Contact:
Sandra Abuwalla
Rittal Systems Ltd.
6485 Ordan Drive
Mississauga ON L5T 1X2
abuwalla.sa@rittal.ca
www.Rittal.ca
905-795-1272