Rittal Systems Ltd. Certified as a Great Place to Work® for the 6th consecutive year!
2018-10-23. Mississauga, ON. Rittal Systems Ltd. is proud to announce that we have been certified as a Great Place to Work® after a thorough and independent analysis conducted by Great Place to Work® Institute Canada.
This certification is based on direct feedback from employees, provided as part of an extensive and anonymous survey about the workplace experience.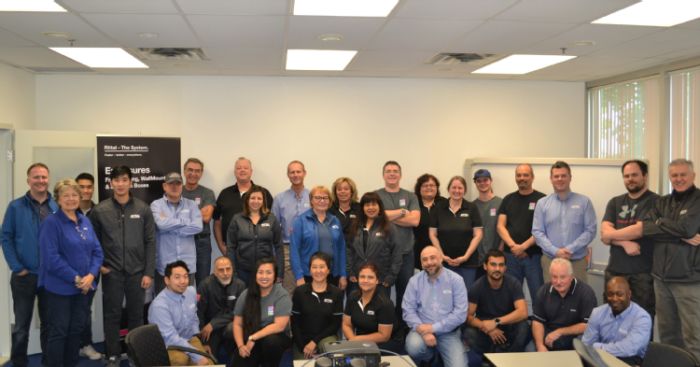 Rittal has the distinction of having some of the longest standing employees in the Manufacturing industry. In the last few years alone, we have had almost half our full-time employees crossing the 5 year milestone, with many completing 10, 15 and even 20 years - a testament to Rittal's stability and employee satisfaction!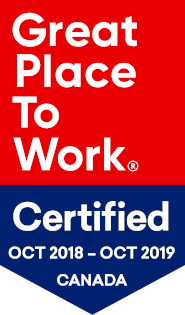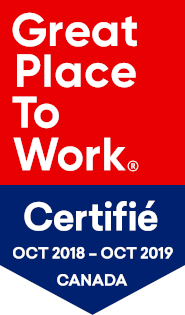 Moreover, Rittal offers some of the best training to employees in every aspect of Manufacturing, delivered through Online training, regular Webinars by Rittal worldwide experts, Workshops, Lunch 'n' Learns, Conferences and Certifications. In addition, Managers are always willing to listen and improve conditions and make life really a pleasure for employees in every department. This certainly makes Rittal one of the best manufacturing organizations to work at in Canada.
Tim Rourke, President, Rittal Systems Ltd., said, "This is the 6th consecutive year that we have met the high standards set by the Great Place to Work Institute and I would like to thank our employees for the time and thoughtfulness that they put into completing the confidential and anonymous survey. This provides great insight into what is good in our company and where we have a need to improve. It is my main goal to ensure that our staff are proud and happy to work for Rittal, and also to acknowledge and recognize the important contributions they are making to our success…a direct result of their engagement with our customers, and commitment to working hard every day to do it the right way, even though it may not be the easiest way!"
About Great Place to Work®:
Great Place to Work® (www.greatplacetowork.ca ) is the global authority on high-trust, high-performance workplace cultures. Through proprietary assessment tools, advisory services, and certification programs, Great Place to Work® recognizes the Best Workplaces™ across the world in a series of national lists including those published by Fortune magazine (USA) and The Globe & Mail (Canada). Great Place to Work® provides the benchmarks, framework, and expertise needed to create, sustain, and recognize outstanding workplace cultures.
Follow Great Place to Work® at www.greatplacetowork.ca and on Twitter at @GPTW_Canada
About Rittal Systems:
Rittal Systems Ltd., headquartered in Mississauga, Ontario, is the Canadian Subsidiary of Rittal GmbH & Co. KG, Germany, which is the world's leading system supplier for enclosures, power distribution, climate control, IT infrastructure and software & services. Founded in 1961, Rittal is now active worldwide with 10 production sites, 63 subsidiaries and 40 agencies. With over 11,000 employees worldwide, Rittal is the largest company of the proprietor-run Friedhelm Loh Group of Haiger, Germany. Find us on LinkedIN @Rittal Systems Ltd. or Twitter at @Rittal_CA
www.rittal.ca and www.friedhelm-loh-group.com .
Media Contact:
Sandra Abuwalla
Rittal Systems Ltd.
6485 Ordan Drive
Mississauga ON L5T 1X2
abuwalla.sa@rittal.ca
www.rittal.ca
905-795-1272