Rittal Systems Ltd. recognized as one of the of Best Workplaces™ in Manufacturing in Canada in 2020!
2020-08-06. Rittal Systems Ltd. is proud to announce that our organization has been named on the 2020 list of Best Workplaces in Manufacturing. We have received this honour after a thorough and independent analysis conducted by Great Place to Work®.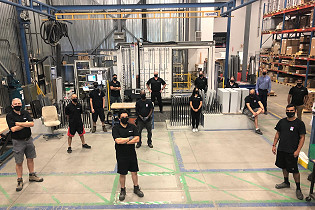 Mississauga, ON. The list is based on direct feedback from employees of the hundreds of organizations that were surveyed by Great Place to Work®. The data has a 90% confidence and a plus or minus 5% margin of error.
To be eligible for this list, organizations must be Great Place to Work Certified™ in the past year and work primarily in the manufacturing industry. Great Place to Work determined the best based the overall Trust Index score from these employees.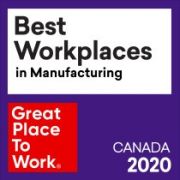 Tim Rourke, President, Rittal Systems Ltd., Canada said, "Rittal is pleased to have made the
2020 list of the Best Workplaces in Manufacturing
in Canada. Especially in these challenging times, this Award is a great testimony of how all the various teams at Rittal have come together to collaborate with true dedication and commitment. I am extremely proud of our Canadian team who continue to deliver customer excellence and success in the marketplace!"
Celebrating 25 years in Canada!
In 1995, Rittal Systems Ltd. was established in Mississauga, and it immediately secured its place in Canada as an innovative manufacturer of high-quality enclosures, IT infrastructure solutions, climate control solutions, and accessories. The success of Rittal Systems Ltd. across Canada facilitated expansion across the country and the establishment of sales and distribution facilities in Montreal, Calgary and British Columbia. Rittal maintains additional warehouse space and a state-of-the-art Modification Center at their Mississauga location that spans over 10,000 square feet.
In 2020, as Rittal proudly celebrates 25 years in Canada, they are delighted to be recognized as one of Canada's Best Workplaces in Manufacturing, thanks to their dedicated staff, partners, customers and all those who have helped them on their journey!
About Rittal Systems:
Rittal Systems Ltd., headquartered in Mississauga, Ontario, is the Canadian Subsidiary of Rittal GmbH & Co. KG, with headquarters in Herborn, Germany, and is one of the world's leading system suppliers for enclosures, power distribution, climate control, IT infrastructure and software & services. Customers from all sectors of industry, from mechanical and plant engineering, as well as from the IT and telecoms market are making use of system solutions from Rittal. Founded in 1961 in Germany, Rittal is now active worldwide with 8 production sites and 58 subsidiaries. With almost 10,000 employees worldwide, Rittal is the largest company of the proprietor-run Friedhelm Loh Group of Haiger, Germany. www.rittal.ca
Join in the conversation: Follow Rittal Systems Ltd.(Canada) on LinkedIn, Twitter @RittalCA or Instagram @RittalCanada
About Great Place to Work®:
Great Place to Work is the global authority on high-trust, high-performance workplace cultures. Through proprietary assessment tools, advisory services, and certification programs, GPTW recognizes the world's Best Workplaces in a series of national lists including those published by The Globe & Mail (Canada) and Fortune magazine (USA). Great Place to Work provides the benchmarks, framework, and expertise needed to create, sustain, and recognize outstanding workplace cultures. Visit us at www.greatplacetowork.ca or find us on Twitter at @GPTW_Canada.
Media contacts:
Sandra Abuwalla
Marketing- Rittal Canada
marketing@rittal.ca