Discontinued article.
Information on the discontinued articles
Product expires on 31.10.2020
This item is being replaced by
8617130
Punched section with mounting flange, 23 x 64 mm for VX, VX IT, VX SE, AX plastic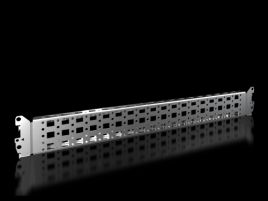 Close
Product description
The alternative to the TS punched section with mounting flange 17 x 73 mm, with punchings for captive nuts/threaded blocks instead of the slotted holes top and bottom. Simply locate and secure.
The product was added to your wishlist
No. of packs*
* Pack of sale = 4 pc(s).
+ Product description
Description:
The alternative to the TS punched section with mounting flange 17 x 73 mm, with punchings for captive nuts/threaded blocks instead of the slotted holes top and bottom. Simply locate and secure.

Material:
Sheet steel

Surface finish:
Zinc-plated

Supply includes:
Assembly screws

To fit:
Enclosure type: the inner mounting level
Width/depth: 600 mm

Installation options:
On the vertical TS, SE enclosure section

Packs of:
4 pc(s).

Weight/pack:
2.76 kg

EAN:
4028177237391

Customs tariff number:
73269098

ETIM 7.0:
EC002625

ETIM 6.0:
EC002625

eCl@ss 8.0/8.1:
27189234

eCl@ss 6.0/6.1:
23159101

Product description:
TS TS punched section with mounting flange, 23 x 73 mm, for inner mounting level: W/D: 600 mm