Discontinued article.
Information on the discontinued articles
This item will be discontinued on 30.09.2020
This item is being replaced by
1553000
Small enclosures KX E-Box KX, sheet steel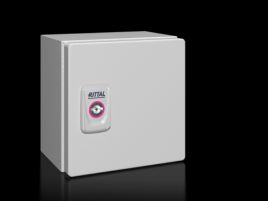 Close
Product description
Spare parts
Wall-mounted enclosure with door and mounting plate of sheet steel. Protection category IP 66. With 180° hinge. Lock insert may also be exchanged for individual lock systems.
The product was added to your wishlist
No. of packs*
* Pack of sale = 1 pc(s).
+ Product description
Material:
Enclosure and door: Sheet steel, all-round foamed-in PU seal

Surface finish:
Enclosure and door: Dipcoat primed, powder-coated on the outside, textured paint
Mounting plate: Zinc-plated

Colour:
RAL 7035

Protection category IP to IEC 60 529:
IP 66

Protection category NEMA:
NEMA 4

IK Code:
IK08

Supply includes:
Enclosure with hinged door
180° hinge
Cam lock with 3 mm double-bit insert
Mounting plate

Basic material:
Sheet steel

Dimensions:
Width: 150 mm
Height: 150 mm
Depth: 120 mm

Material thickness:
Enclosure: 1.25 mm
Door: 1.25 mm
Mounting plate: 2 mm

Mounting plate:
Width: 125 mm
Height: 135 mm

Lock version:
Cam

Number of locks:
1

Lock insert:
3 mm double-bit

Packs of:
1 pc(s).

Weight/pack:
2 kg

EAN:
4028177251663

Customs tariff number:
94032080

ETIM 7.0:
EC002713

ETIM 6.0:
EC002713

eCl@ss 8.0/8.1:
27180101

eCl@ss 6.0/6.1:
27180101

Product description:
EB E-Box, WHD: 150x150x120, Sheet steel, with mounting plate, with door

+ Approvals
Approvals:
Certificates:

Certificate of manufacturer according to RMRS:

(RU, EN)

Declarations:
– Customers who were interested in this item were also interested in