Discontinued article.
Information on the discontinued articles
This item will be discontinued on 30.09.2020
This item is being replaced by
1610000
Small enclosures KX Bus enclosures KX, sheet steel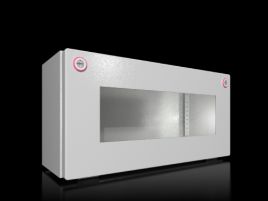 Close
Product description
Wall-mounted enclosure with door of sheet steel, with polycarbonate viewing window. Protection category IP 65. Optionally with mounting plate or support rails. Depending on the version, drilled holes for cable glands are already provided. Bus modules of virtually all makes may be attached.
The product was added to your wishlist
No. of packs*
* Pack of sale = 1 pc(s).
+ Product description
Material:
Enclosure: Sheet steel
Door: Sheet steel
Viewing window: Polycarbonate, 4 mm

Surface finish:
Enclosure and door: Dipcoat primed, powder-coated on the outside, textured paint

Colour:
RAL 7035

Protection category IP to IEC 60 529:
IP 65

Protection category NEMA:
NEMA 12

IK Code:
IK08

Supply includes:
Enclosure with door
Viewing window in the door
Gland plate in enclosure base

Basic material:
Sheet steel

Dimensions:
Width: 400 mm
Height: 200 mm
Depth: 125 mm

Support rails:
Qty. (type TS 35/7.5): 1

Material thickness:
Enclosure: 1.25 mm
Door: 1.25 mm

Door hinge:
bottom

Lock version:
Quick-release fastener including plastic bushes

Number of locks:
2

Packs of:
1 pc(s).

Weight/pack:
4 kg

EAN:
4028177262003

Customs tariff number:
94032080

ETIM 7.0:
EC000261

ETIM 6.0:
EC000261

eCl@ss 8.0/8.1:
27180101

eCl@ss 6.0/6.1:
27180101

Product description:
BG Bus enclosure, WHD: 400x200x125 mm, Sheet steel, with gland plate in the base and support rails, Door with viewing window, hinged at bottom

– Customers who were interested in this item were also interested in
Product data (ZIP)
Rittal does not assume any liability for the topicality of the data downloaded locally on your device.
I agree