Discontinued article.
Information on the discontinued articles
Product expires on 31.10.2020
This item is being replaced by
3313420
Liquid Cooling Package LCP rack DX, LCP rack DX/FC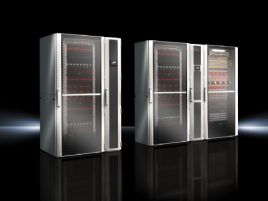 Close
Product description
Spare parts
Rack-based cooling on one to two IT racks. Continuous cooling output adjustment due to the use of an output-controlled compressor in the LCP Rack DX (evaporator) An external condenser is required to operate the unit.
The product was added to your wishlist
No. of packs*
* Pack of sale = 1 pc(s).
+ Product description
Benefits:
Maximum energy efficiency due to EC fan technology and IT-based control
Minimal pressure loss at the air end, which in turn minimises the power consumption of the fans
Control of the server inlet temperature
Thanks to the speed-regulated compressor, the cooling output is ideally adapted to actual requirements
With redundant temperature sensor integrated at the air end as standard
Specific maintenance of the LCP DX due to separation of cooling and server racks

Applications:
Ideal for IT cooling of small and medium-sized locations
One or two racks can be cooled separately

Function principle:
The LCP draws in the air at the sides at the rear of the server enclosures, cools it using high-performance compact impellers, and blows the cooled air back into the front part of the server enclosure at the sides
Absorbed thermal energy is emitted to the ambient air at the external condenser location, without heating up the installation room

IT monitoring:
Direct connection of the unit via SNMP over Ethernet
Integration into RiZone

Material:
Sheet steel, spray-finished

Colour:
RAL 7035

Protection category IP to IEC 60 529:
IP 40

Note:
Variant with UL approval available on request

Options:
Humidifier
Dehumidification and reheater
Condensate drain pump
Higher cooling output
Low-temperature/high-temperature condenser (-40 °C/+53 °C)

Variant:
Rack cooling

Total cooling output to DIN EN 14511:
L 30 L 22: 12 kW
L 22 L 45: 10 kW

Modulation range:
Device modulates without interruption in the cooling output range between: 3 kW - 12 kW

Total cooling output/Number of fan modules:
12 kW / 4 
 
 

Total cooling output:
12 kW

Air throughput (unimpeded air flow):
At 50 Hz: 4800 m³/h

Rated operating voltage:
400 V, 3~, 50 Hz
380 V - 480 V, 3~, 60 Hz
Note: 400 V

Dimensions:
Width: 300 mm
Height: 2000 mm
Depth: 1200 mm

Temperature control:
Linear fan control
Inverter-controlled compressor

To fit:
TS IT

Installation in bayed enclosure suite:
Flush

Refrigerant/cooling medium:
Refrigerant: R410a
Cooling medium: Refrigerant

Type of electrical connection:
Connection clamp

Duty cycle:
100 %

Rated current max.:
At 50 Hz: 7.5 A

Start-up current max.:
11 A

Miniature circuit-breaker/fuse:
20 A

Noise level:
At 50 Hz: 69 dB(A)

EC fan:
yes

Fans may be exchanged with the system operational:
yes

eCl@ss 8.0/8.1:
27180712

Packs of:
1 pc(s).

Weight/pack:
227 kg

EAN:
4028177691322

Customs tariff number:
84158300

ETIM 7.0:
EC002515

ETIM 6.0:
EC002515

eCl@ss 8.0/8.1:
27180712

eCl@ss 6.0/6.1:
27180712

Product description:
SK LCP Rack DX, Refrigerant-based split cooling unit for rack cooling, Mounted on the side of the rack, flush, Cooling of one up to maximum two racks, Support of IT-compatible, #front-to-back# air routing,

– Customers who were interested in this item were also interested in