Discontinued article.
Information on the discontinued articles
This item will be discontinued on 15.02.2019
This item is being replaced by
8618520
Top-mounting module for VX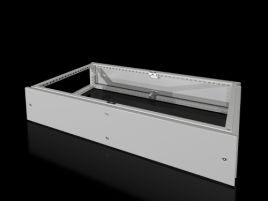 Click here for the successor item
Close
Product description
As a cable chamber for cable infeed from above or for power distribution with busbar systems across bayed enclosures.
The product was added to your wishlist
No. of packs*
* Pack of sale = 1 pc(s).
+ Product description
Description:
As a cable chamber for cable infeed from above or for power distribution with busbar systems across bayed enclosures. The TS cover plate supplied as standard is used to finish off at the top.

Material:
Sheet steel, 1.5 mm

Surface finish:
Spray-finished, textured paint

Colour:
Similar to RAL 7035

Protection category IP to IEC 60 529:
IP 55

Protection category NEMA:
NEMA 12

Assembly instruction:
The top baying cover cannot be fitted

Supply includes:
Frame module
2 trim panels front/rear
8 retainers with automatic potential equalisation
4 tapped rods with eyebolts

To fit:
Enclosure type: TS
Width: = 1000 mm
Depth: = 600 mm

Dimensions:
Height: 200 mm

Packs of:
1 pc(s).

Weight/pack:
16.4 kg

EAN:
4028177250505

Customs tariff number:
94039010

ETIM 7.0:
EC000744

ETIM 6.0:
EC000744

eCl@ss 8.0/8.1:
27182405

eCl@ss 6.0/6.1:
27182405

Product description:
TS Top-mounting module, for TS, for WD: 1000x600 mm

– Customers who were interested in this item were also interested in