Discontinued article.
Information on the discontinued articles
This item will be discontinued on 15.02.2019
This item is being replaced by
8617700
Punched rail 18 x 39 mm for VX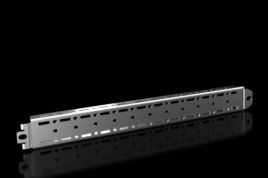 Click here for the successor item
Close
Product description
Installation on the vertical TS enclosure section on the outer mounting level, on the horizontal TS enclosure section and on the base configuration rail for CM.
The product was added to your wishlist
No. of packs*
* Pack of sale = 4 pc(s).
+ Product description
Description:
Simply locate and secure with a screw. The location system makes assembly and dismantling easier. It only needs to be secured on one side, but may be secured on both sides if required.

Material:
Sheet steel

Supply includes:
Assembly screws

Note:
In enclosures with a mounting plate, 2 punched rails are already included with the supply.

To fit:
Width/depth: 400 mm

Installation options:
On the vertical TS, SE enclosure section on the outer mounting level
On the horizontal TS, SE enclosure section
On base configuration rail for CM

Packs of:
4 pc(s).

Weight/pack:
1.66 kg

EAN:
4028177213081

Customs tariff number:
73269098

ETIM 7.0:
EC002625

ETIM 6.0:
EC002625

eCl@ss 8.0/8.1:
27189234

eCl@ss 6.0/6.1:
23159101

Product description:
TS Punched rail 18 x 38 mm, for W/D: 400 mm