Discontinued article.
Information on the discontinued articles
Product expires on 30.04.2020
This item is being replaced by
8619800
Cable entry plates for VX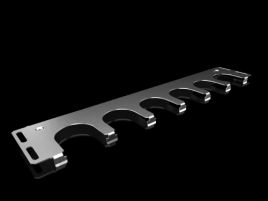 Close
Product description
Secure cable routing in conjunction with cable entry grommets, connector grommets. Fitted instead of standard gland plates.
The product was added to your wishlist
No. of packs*
* Pack of sale = 2 pc(s).
+ Product description
Description:
Secure cable routing in conjunction with cable entry grommets, connector grommets. Fitted instead of standard gland plates.

Benefits:
Particularly well-suited to cables with different cross-sections
Thanks to the enclosure symmetry, where dimensions permit, cable entry plates may also be inserted in the enclosure depth, right and left, analogous to the gland plates

Material:
Sheet steel

Surface finish:
Zinc-plated

Supply includes:
Assembly parts

Design:
Note: For installation in TS and PC enclosures

To fit:
Enclosure type: TS
Enclosure type: SE
Enclosure type: PC
Width: = 600 mm

Cable entry:
Number of cut-outs: 5

Packs of:
2 pc(s).

Weight/pack:
1.07 kg

EAN:
4028177212466

Customs tariff number:
73269098

ETIM 7.0:
EC002620

ETIM 6.0:
EC002620

eCl@ss 8.0/8.1:
27189261

eCl@ss 6.0/6.1:
27400604

Product description:
TS Cable entry plate, for TS, SE and PC enclosures, for W: 600 mm

– Customers who were interested in this item were also interested in