Discontinued article.
Information on the discontinued articles
This item will be discontinued on 31.03.2021
This item is being replaced by
3185330
Wall-mounted cooling unit Blue e+ outdoor Total cooling output 1.50 kW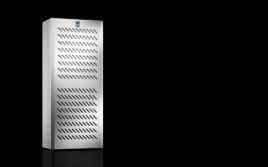 Close
Product description
Spare parts
Useful cooling output/heater 1,400 W/400 W, temperature control via e-Comfort controller. For mounting on the CS Toptec in 3 positions: External, partial internal and full internal mounting.
The product was added to your wishlist
No. of packs*
* Pack of sale = 1 pc(s).
+ Product description
Description:
Temperature control via e-Comfort controller. The cooling unit may be attached to the enclosure in 3 positions (external, partial internal and full internal mounting).

Benefits:
May be linked to the IoT interface via the Blue e IoT adaptor

Material:
Aluminium

Surface finish:
Powder-coated
Pure polyester

Colour:
RAL 7035

Protection category IP to IEC 60 529:
External circuit IP 34
Internal circuit IP 55

Supply includes:
Fully wired ready for connection (plug-in terminal strip)
Sealing frame for universal attachment to outdoor enclosures for external, partial internal and full internal mounting.

Total cooling output to DIN EN 14511:
L 35 L 35 at 50 Hz: 1.4 kW
L 35 L 35 at 60 Hz: 1.53 kW
L 35 L 50 at 50 Hz: 1.06 kW
L 35 L 50 at 60 Hz: 1.1 kW

Thermal output:
400 W

Air throughput (unimpeded air flow):
External circuit with 50 Hz: 1000 m³/h
External circuit with 60 Hz: 1090 m³/h
Internal circuit at 50 Hz: 880 m³/h
Internal circuit at 60 Hz: 950 m³/h

Rated operating voltage:
230 V, 1~, 50 Hz/60 Hz

Dimensions:
Width: 500 mm
Height: 1000 mm
Depth: 274 mm

Enclosure dimensions including sealing frame and designer cover:
Width: 552 mm
Height: 1052 mm
Depth: 274 mm

Temperature control:
e-Comfort controller (factory setting +35 °C)

To fit:
CS Toptec
with width: ≥ 800 mm
with height: ≥ 1200 mm

Temperature range:
Operation (environment): -33 °C...+55 °C
Setting range: +20 °C...+55 °C

Refrigerant/cooling medium:
Refrigerant: R134a
Quantity: 0.9 kg
Global Warming Potential (GWP): 1430
CO₂ equivalent (CO₂e): 1.3 t

Type of electrical connection:
Plug-in terminal strip

Power consumption Pel:
L 35 L 35 at 50 Hz: 0.96 kW
L 35 L 35 at 60 Hz: 1.17 kW
L 35 L 50 at 50 Hz: 1.13 kW
L 35 L 50 at 60 Hz: 1.25 kW

Rated current max.:
At 50 Hz: 6 A
At 60 Hz: 6.8 A

Start-up current max.:
At 50 Hz: 34 A
At 60 Hz: 32 A

Miniature circuit-breaker/fuse:
10 A

Permissible operating pressure (p. max.):
28 bar

Installation type:
Universal installation (internal, partial internal and external)

eCl@ss 8.0/8.1:
27180704

Energy efficiency ratio (EER) 50/60 Hz L35 L35:
1,46  / 1,31 

Packs of:
1 pc(s).

Weight/pack:
45 kg

EAN:
4028177463110

Customs tariff number:
84158200

ETIM 7.0:
EC000855

ETIM 6.0:
EC000855

eCl@ss 8.0/8.1:
27180704

eCl@ss 6.0/6.1:
27180704

– Customers who were interested in this item were also interested in