Uwe Scharf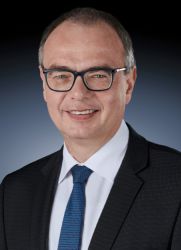 Managing Director Rittal Business Units
and Marketing
Born in 1964 in Wetzlar, in central Germany. He studied electrical engineering at TH Mittelhessen University of Applied Sciences.
From 1988 to 2001, Mr Scharf held a range of leadership positions in product management and marketing, in IT and industry. Most recently, he was head of product management for automation systems at ABB Automation Products.
Since 2001, Mr Scharf has filled a variety of senior roles in strategic marketing and product management at Rittal. From 2017, he built up the Industry business unit as Executive Vice President.
Effective January 2019, Mr Scharf has been appointed Managing Director responsible for the IT and Industry business units and for marketing.